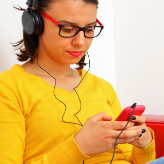 You have an iTunes Library. And it is an iTunes Library you have curated for years now and are attached to. However, if you have purchased or are thinking about getting an Android phone, you're probably a bit concerned your music won't be able to make the switch with you. Well we have some good news. Using one of these handy methods will let you enjoy your iTunes Library on an Android phone.
Drag and Drop
The most straightforward method of moving music involves a task you're probably already familiar with, dragging and dropping files. Alternatively, you can also copy and paste them, the choice is yours.
Start by connecting your Android phone to your laptop. From there, you will need to create a new folder on your Android phone from your laptop where you will place your music and open it up. Once that is completed, you should then open iTunes and highlight the songs you want to move. From there you can either drag and drop the files directly into the newly created folder on your Android phone, or select copy and then paste them into the folder. The results will be the same either way and your music will transfer over to your phone. Remember, if your laptop is a Mac you will need the Android File Transfer app available from Android in order to do this.
Apple Music
Apple Music recently made its way to Android and in addition to the streaming music service you are also able to access the songs you have purchased through iTunes. When you open up the Apple Music app you should be able to see your playlists from your iTunes Library show up when you go to My Music > My Playlists. There are two things you will want to take note of when considering Apple Music for Android. First, it is $10 a month to subscribe to the service and use the app. Second, the app is still new and Apple has not quite worked out all the kinks just yet according to reports.
Google Play Music
If you don't need the physical files on your phone and are happy having access to your music via the cloud, then Google Play Music is a solution you might want to consider. For starters, it comes pre-loaded on all Android phones so the first step is already taken care of for you. You'll need to download the Google Music Play app on your laptop (it's compatible with both Mac and PC), and then connect it to your iTunes library which will help you during the setup process. You can store up to 20,000 songs on your Google cloud at any given time which should be enough space for most people.
The downside of Google Play Music is that you'll need to be connected to the Internet in order to have access to your music, which means this solution isn't ideal if you're on a plane for a long time or in another scenario where Internet access isn't readily available.
If you're thinking about switching from iOS to Android phones for your business then why not give our experts a call. We can help make sure your transition a smooth one.