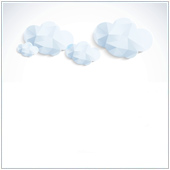 The cloud has really taken off in the past five years. So much so, in fact, that almost every major business system has a cloud offering. From email to CRM and accounting, chances are good you will find a cloud solution you can integrate with your business. Because of the abundance of systems it is common for business owners and managers to feel confused as to which systems they can, or should, move to the cloud.
Here is an overview of some of the more popular cloud solutions small to medium businesses might want to implement:
Email
All businesses, regardless of their size, rely on email these days. In the past, many businesses wanting individualized email addresses needed to host the email client on their own servers. This demanded an IT staff and investment into an email specific server, which many simply couldn't afford or manage themselves.
The cloud has changed all this for the better, by allowing you to move your email hosting to a cloud-based solution whereby you don't have to manage or invest in the hardware needed to run your email as the host is usually responsible for that.
What many business users enjoy about cloud-based email is that it is usually more affordable than an on-premise solution, especially if that existing set-up is an aging one. Switching to email in the cloud will reduce costs. On top of this, because these services are usually managed by a skilled IT company, you can guarantee that they are not only up-to-date but also secure.
File storage
Mention the cloud and many people automatically think of cloud storage services. These are a dime a dozen and are often the most popular type of cloud solution employed in businesses.
There are many business oriented cloud storage services that offer ample storage as well as the security needed to ensure that critical data is secure both on the service and when it is in transit between your systems and the cloud.
Much like email, many of these services are managed by IT professionals who ensure the system is up-to-date and secure. Also, some offer a storage rate that is on a par with, or less expensive than, physical hard drives, which can help you save money in the long run.
Hosting servers
Some businesses require numerous servers in order to support operations. A problem with physical servers is that they require in-house IT staff in order to manage them. They also can be quite bulky and resource demanding, which can lead to high IT bills.
One option many small businesses are embracing is the cloud-based server. The idea is that the same capability is delivered over the Internet, without the need for a server to be located at your physical business. This frees up space, while allowing for easier management.
When many business owners do due diligence on different server solutions, they quickly find out that cloud-based servers are often more economical in the long run, especially if the business is running older hardware or operating on a lower budget.
Ecommerce
Ask any business owner who runs an ecommerce business how resource intensive it is, and they will be quick to tell you that managing an in-house solution is not only costly, but can be inefficient, especially when you try to scale your store.
Over the past few years, a number of powerful cloud-based ecommerce platforms have been introduced that not only allow you to easily manage an online store, but also scale without the costly hardware investment. Beyond this, because the servers that host the cloud solutions pool resources, you can be sure that your store will always be available online, even if you are experiencing heavy traffic. This could crash on-premise solutions found in many small businesses.
Like many of the other cloud solutions, ecommerce cloud solutions can be managed by an IT team, leaving you to focus on running your business.
Document creation and collaboration
A common trend in many businesses is the increasing reliance on remote workers. If your company employs remote workers there is a good chance that you have run into at least some productivity issues. If you are using a traditional document creation system, time will have been lost passing different versions of documents back and forth and ensuring everyone is using the same version.
There are a number of great cloud-based document creation services available to businesses. These services offer features that ensure that documents are always up-to-date on all systems, while promoting collaboration.
Because these services are accessed over the Web, you don't need to purchase expensive licenses for each user, but pay a minimal monthly fee instead. In general, companies that have moved to a cloud-based document suite have seen a ROI in excess of 300% and an overall increase in productivity.
Backup and recovery
Believe it or not, your business is constantly facing disaster. Not every disaster will be enough to wipe your business out, but even a small one, like a hard drive crash, could be enough to put a damper on your overall business success and profits. It therefore pays to be prepared with a Disaster Recovery or Business Continuity Plan in place.
One of the most essential elements of these plans is a backup of your data. Because cloud solutions are off-site, you can backup your data and systems so these backups are available, should disaster strike and you can't access your data.
Many of these backup solutions can be automated to ensure systems are backed up regularly, and also offer speedy recovery time. Some businesses have seen their critical systems back online in as short as half an hour after re-establishing network connection.
If you are looking to move your business into the cloud, contact us today to learn more about our products and cloud services.