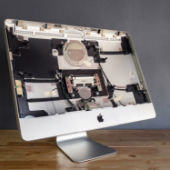 Remote work arrangements have become the new norm for many employees. If you've been working from home using your Apple desktop or laptop without a second monitor, here's some good news: you have several options for external monitors — including your TV.
First, check what displays your Mac device supports by doing the following:
Click the Apple Menu (located on the left-hand side of the screen). Then click Support > Specifications.
You will then be directed to an Apple web page indicating your device's technical specifications. Under Graphics and Video Support, you will see some details similar to the following*:
Intel HD Graphics 6000
Dual display and video mirroring: Simultaneously supports full native resolution on the built-in display and up to 3840 by 2160 pixels on an external display, both at millions of colors
Thunderbolt digital video output
*This is for a MacBook Air (13-inch, early 2015).
Extended mode versus mirror mode
Connecting to an external display lets you choose between:
Extended mode – uses the external display to extend the image displayed on your main Mac device. To activate extended mode:

Click Apple menu > System Preferences > Display > Arrangement.
Untick the Mirror Displays checkbox.
Note: This may not work on older Mac devices such as early 2015 models or older.
Mirror mode – reflects or "mirrors" the exact same image on your main device onto the external screen. To activate video mirroring:

Click Apple menu > System Preferences > Displays > Arrangement.
Tick the Mirror Displays checkbox.
AirPlay mode
Those who have an Apple TV can use AirPlay to use their TV as a second screen. Apple TV is designed for use with TVs, but it can also be used to connect to HDMI-enabled computer monitors.
To use AirPlay mode as a second display:
Turn on your TV and Apple TV.
In the menu bar (the topmost bar on the screen), select the AirPlay icon, the one with a rectangle intersected by a triangle.
Select your Apple TV and enter the four-digit code appearing on your TV onto your Apple device.
To enable AirPlay to mirror your main Mac device:
Click the AirPlay icon and select Mirror Built-in Display.
To use your TV as a separate display, click the AirPlay icon, then choose Use As Separate Display.
To turn off AirPlay:
Click the AirPlay icon, then select Turn AirPlay Off.
Your Macbook Pro, Macbook Air, iPad, and other Apple devices have functionalities you may not have yet explored. To get more productivity hacks and/or hardware support, call our IT experts today.