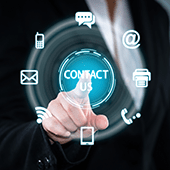 There was a time when "voice" was the sole business communication solution. Then, we were introduced to emails, texts, and chats, all of which are extremely useful and are here to stay. But wouldn't it be nice if there was a communication solution that integrated everything — voice, messaging, video — into one platform? That's where unified communications come in.
What is unified communications?
Unified communications (UC) allow you to manage all your communications from one architecture rather than separately.
It integrates computer-related communication technologies, like instant messaging and video conferencing, with voice over internet protocol (VoIP) which allows you to make and receive calls using the internet.
What can be integrated?
Just about everything can be integrated. This includes voice communication in all its forms — voicemail, email, or fax — as well as multimedia services like video chat and web conferencing.
Real-time communication like call screening and call conferencing can also be integrated. But what many might not know is the fact that even data services and transactions like e-commerce and online banking can also be added to the UC system.
What are the benefits of UC to small businesses?
One of the most evident benefits is that you'll have a single and flexible communication infrastructure that allows you to streamline and enhance business communication, and easily manage all the components.
Features can be scaled up or down to support your business needs without hassle. Other benefits include:
Hypermobility
UC gives access to your office via a wide array of smart devices, like laptops, smartphones, tablets, and more. This means you can literally create your office environment and satisfy customers from anywhere you please. This opens up a world of opportunity for employing remote workers.
Improved productivity
Your employees will be equipped with productivity-enhancing communication features, like call info, call routing, and more, that allow them to work more efficiently and better tend to customers' needs.
Web and video conferencing calls, for instance, not only allow for real-time interactivity, but also for better collaboration. Delayed response times and gaps between dispersed teams are also minimized.
Real-time updates
You and your employees will be able to see important presence updates in real time, including how to contact colleagues and how to see their locations. This makes getting the right information from the right person at the right time quick and easy.
Single contact point
Clearly defined points of contact ensures that stakeholders can reach you by email, phone, SMS, and more regardless of the channel they're doing it from — softphone, IP phone, email, or IM.
Reduced costs
UC eliminates the cost of travel and reduces your monthly phone bill since it uses the internet to make calls. It also limits the need for expensive on-site hardware as one UC server keeps everyone connected using the aforementioned communication features.
Even better, you can potentially save thousands of dollars on office overheads by allowing employees to work from home since they'll remain connected with their softphones even when they're not at your office.
It's only a matter of time before unified communications become the norm for day-to-day office interactions. If you're interested in learning more about how UC or VoIP can transform your business, just give us a call. We're happy to explain everything to you in plain English.