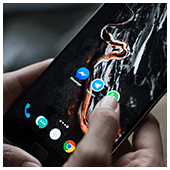 If you're a long-time Android user, chances are you already know that your device (or devices) are chock full of features just waiting to be discovered. If you're unsure where to start, you're in luck. We're here to discuss Android Oreo's useful hidden features that help you work more efficiently.
Notifications
More applications mean more notifications to manage. Fortunately, there are a handful of ways you can adjust your notifications other than simply turning them on or off.
Snooze Notifications – Getting notifications from all your apps is distracting and reduces productivity. You can prevent them from appearing in the Notifications shade for a specified amount of time by swiping an alert in a left-to-right motion, whereby options to snooze it — for 15 minutes, 30 minutes, 1 hour, and so on — will appear.
Notification Dots – Important notifications within the Notification shade can get lost amid non-essential ones. There is a hidden feature that lets you view notifications and actions from only high-priority apps, such as a productivity platform or a messaging tool. Just press and hold an app icon and the notifications for that app will appear.
Notification Channels – This feature gives you even greater control over managing your device's notifications by letting you categorize them according to the level of priority, update status, and more. Simply swipe a notification alert from left to right, then tap 'All Categories' under the gear icon to adjust notification categories.
Wi-Fi Settings
Automatically turn on Wi-Fi – Every time you're near a 'high-quality saved network,' your Wi-Fi will turn on automatically and connect to that network, saving you a few taps. To activate this setting, toggle 'Turn on Wi-Fi Automatically' under your device's Wi-Fi settings, and make sure the device is not in battery saver mode and that its location service is on.
Wi-Fi Assistant and Google VPN – Oreo's enhanced Wi-Fi Assistant lets users automatically connect to open Wi-Fi networks with a secured VPN connection from Google. This means you can connect to that coffeeshop wifi without worrying about how unsecure it is.
Battery
Inactive apps that run in the background are a big drain on your battery. Fortunately, a battery-optimizing feature in Android Oreo solves this problem. But first, you'll have to determine which apps consume the most battery while running in the background. Go to Settings > Battery > "App usage since full charge," and turn off Background Activity for apps that have high "While in background" times.
Data Autofill and Storage
The Autofill function analyzes your personal data, saved passwords, and other information based on the content on your screen and your general usage. What's more, it can be used even for non-Google apps. You can activate it under Settings > System > Languages & input > Advanced > Autofill service.
When your device is running low on storage, Oreo's improved Smart Storage feature frees up space by automatically deleting photos and videos that have already been backed up in Google Drive.
Many businesses rely on mobile devices not just for company communications but also for productivity, and these are just some of the tips that help maximize your devices' usefulness. Get in touch with us today for more money-saving and efficiency-enhancing tips and tricks.