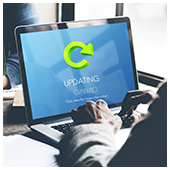 Updating the Windows operating system is both crucial for the security of your computers, and incredibly frustrating. Up until now, Microsoft has released patches and updates unpredictably and often at a pace difficult to maintain. However, the company behind the world's more popular operating system has announced it's making some changes.
Windows 10 updates in 2017
In the summer of 2016, Microsoft announced that Windows would receive two large-scale feature updates in 2017. The first of these was released in April and is referred to as the Creators Update. Although many of the new features are far too advanced for the average user, the Creators Update included huge boosts to data security, user administration, and mobile device management integrations.
The next big update is due in September, and is rumored to come with several consumer-level features such as the People integration that was originally slated for the Creators Update. People would allow you to pin contact icons to your start bar to consolidate shared cloud storage, messaging platforms and calendars for individuals in one convenient location.
The future of Windows OS updates
From 2017 onward, Microsoft has committed to sticking to this "predictable twice-per-year" schedule. Along with more reliable releases, the Windows team is also committing to a more reliable support lifecycle. As long as you are running a version of Windows 10 that has been released sometime within the last 18 months, you can be sure that Microsoft engineers are keeping it current and secure.
This is great news for businesses that struggle to keep their servers and workstations updated. Out-of-date operating systems are one of the biggest risks to data security for small businesses, and promising this level of reliability makes it much easier for IT teams to plan ahead.
As trivial as it may seem, keeping all your software and hardware updated is a huge benefit of outsourced IT management. From productivity improvements to security patches, most businesses are missing out on vital features in a number of their services and platforms. To ensure that every solution you've invested in is working at its peak, call us today.