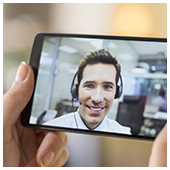 More companies will launch online video chat as a customer service platform by 2018…and it's about time. Businesses have never been more eager to please, thanks in part to customer service satisfaction scoring sites and apps, which is how competition got increasingly tough. The eventual integration of online video chat as a customer service platform will soon play a part in making customer service satisfaction soar, and businesses ought to adapt and make the most of it now.
More visuals, better service
Unlike other customer service platforms such as phone, online chat, social media, and email, online video chat is highly personal and markedly interactive. The advantage is obvious: Customers see the person they're talking to, which lends a greater sense of urgency and professionalism to a conversation. Businesses looking to improve their customer satisfaction rating can also benefit from a video-enhanced customer service capability.
That is not to say that an online chat or other 'less visual' modes of communication are insufficient in handling or managing complaints or queries. For some businesses, certain product or service inquiries could benefit from a visual demonstration, such as fixing a malfunctioning electronic equipment or assembling furniture. A video chat can also be massively beneficial to customers seeking help for an extremely technical computer issue.
Not all customers, however, would opt for a video chat to get assistance, but having it as an option is definitely going the extra mile. Having a video option also expands the customers' options and increases their confidence in your capacity to assist.
Is online video chat really necessary?
Some companies aren't eager to adopt a video-based customer service functionality due to several factors, such as costs associated mostly with staff training and contact center structure improvements. Despite being the least personal of all customer interactions, interactive voice response systems are still preferred by many because they're cheaper to implement and maintain.
Other hurdles include inconsistent video chat quality and customer preference. The ubiquity of other platforms such as social media also poses a barrier to adapting video chat. Why spend money hiring extra staff and expend effort adding video capabilities when you can have anyone on the team log on to Twitter — for free — and solve complaint tickets?
Despite widely recognizing customer service and experience as a competitive differentiator, many businesses still resist video technology. For small- and medium-sized firms with limited resources that are therefore slow to adjust to new changes, this is understandable. Nevertheless, exploring video chat's potential can undoubtedly enhance their customers' experience, and, in time, prove invaluable.
As with many advances in unified communications technology, it wouldn't be surprising if online video chat decimated other VoIP services and became the new norm rather than a budding trend. Do you want to explore the various features of your existing VoIP systems for your business? Call us for advice today.