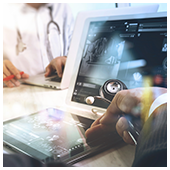 Can you think of an industry that hasn't improved because of advanced technology? It's hard to come up with one; much easier to think about where technology has made our lives better. A good example would be the medical world, where everything from robotic surgeries to electronic health records (EHR) — plus these five integrated healthcare technologies — are leading to more patient-friendly futures.
Putting the words "healthcare technology integration" together opens things up pretty broadly, so what do we mean by it exactly? In this instance, we're not talking so much about complex surgical procedures or hi-tech medical devices; the focus here is more on IT, or "information technology," in the healthcare realm.
It may not sound as impressive as some of the sci-fi-seeming technological advances like anesthesiologists' iPads that use "perioperative information management systems" to track the patient's well-being during surgery; or the "Argus II" bionic eye, which takes a video signal from a pair of sunglasses and transmits it to retinal implants. But the improvements technology integrations are making to the patient experience are no less significant.
Timely Reminders
In the past, healthcare providers had but one "convenient" way of reminding patients of upcoming appointments. Phone calls are fine, but even with the advent of robo-calls, connections can be missed and messages can fall through the cracks. Today, your doctor's office can reach you via more expeditious "e-methods" like email, chat, and text message. They also afford patients an interactive option where they can confirm dates and times with a click of their mouse or a tap of their screen.
Informed Decisions
Integrating technology into your healthcare routine will never replace the advantages of meeting your physician face-to-face, but it certainly makes it easier for you to manage your wellness. For example, there are apps that give you on-demand access to your medical records and patient history — with features like real-time chatting with your doctor, therapist, or nurses — allowing for better, faster decision making when it comes to your health, all without an actual appointment.
Painless Prescriptions
Here's one area of patient care where new apps are truly simplifying things, making communications between you and your doctors and pharmacists completely hassle-free. In many cases, the process for getting the right drugs at the right time can be totally automated; gone are the days of calling in scripts or dropping them off and waiting. Welcome to the new age of software programs that manage your meds, automatically refill them, and keep you on track to better health.
Personalized Care
Everyone has a different approach to staying fit or recovering from illness, and in the world-wide-web era, search engines are a part of most people's repertoire. But the data you find online won't be tailored to your precise situation, and certainly won't be 100% trustable. Thankfully, a slew of sophisticated health-tech apps are integrated with wearable devices to give you accurate, up-to-the-minute info on how you're doing with your stress management, heart health, or temperature regulation.
Convenient Claims
The historically labor-intensive, oftentimes irritating undertaking of filing medical claims has been seriously improved upon by technology in recent years. Thanks to cloud computing, your doctors and insurance carrier can collaborate on your behalf using secure, encrypted apps that result in faster processing and far less paperwork. You're even able to enter your insurance info ahead of time, and stay up-to-date throughout the process with automated status updates.
Technology integration in healthcare is improving the ways we prevent diseases, perform surgeries, and deliver treatments. But the innovations with the most significant day-to-day influence are the ones that provide patients with access to reliable, real-time information. That's where patient outcomes, perhaps, have been advanced the most — right before our [bionic] eyes.