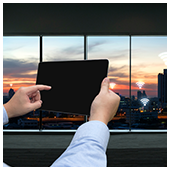 Android Things is the latest Google operating system. It is designed to be used in devices for what is known as the "internet of things," and will compete with similar platforms offered by other companies for their different devices. However, many business owners and consumers alike are scratching their heads wondering how this latest Google operating system manifestation will impact them. If you are among those interested business owners, it is vital to get to learn about Android Things.
Android Things is a Google operating system designed for use and compatibility with connected speakers, routers, security cameras, smart thermostats, and more. Essentially these are the "things" that need to be connected through WiFi to a smartphone or tablet to be controlled as part of a larger network or system.
Google originally announced an Internet of Things operating system referred to as Brillo. However, Brillo did not do as much or as well as expected, and it has rarely been mentioned since. Rather than continue to allow Brillo to fade into obscurity, Google decided to rebrand Brillo as Android Things, an improvement that offers the same developer tools as other Android operating systems.
It is important to keep in mind that Android Things is a background operating system rather than an obviously visible system like the system on a phone or tablet. But the fact that it can accomplish more complex tasks quickly and efficiently can mean big things for its use in business.
If you are interested in knowing more about Android Things or about using devices that put this OS to use, contact us right away. We'll help you keep up with the latest development updates so you can be the first in line when Android Things products are widely released.