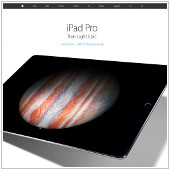 The iPad Pro has been out for several months now. Over the course of this time, millions of users across the globe have had the opportunity to spend quality time with Apple's new tablet. But for those of us who aren't quite certain they should purchase one yet, we're still wondering, "how has it worked out for those early adopters?" A new survey released by CIO, a website that delivers the latest news and tips for IT professionals, questioned 11 users about their experience thus far. Here are their thoughts on the good and bad of the iPad Pro.
The good
Great for short, focused bursts of work – The iPad Pro is lightweight, turns on quickly and features some exceptional iOS multitasking features. These qualities make it a perfect alternative to a laptop for short, focused bursts of work. One user surveyed noted that taking out his laptop for thirty minutes or less of work is tiresome and is also unfeasible at times. The iPad Pro solves this problem, allowing him to even get work done in taxis.
Speed – When compared to iPad Air 2, the iPad Pro has made huge improvements when it comes to speed. The iPad Air 2 is slow when opening a large file or program and when switching between apps. However, the iPad Pro performs these same tasks lightning fast thanks to Apple's A9X 64-bit processor and 4GB of RAM.
Split View enhances productivity – Let's face it, we all multi-task to some extent, and Split View has really made it easier than ever. If you're in a meeting and need to toggle between your email and a note application or web page, Split View eliminates the now unnecessary step of hitting the home button first and then opening the other app. All you have to do is slide your finger across the display to bring up different apps you may want to use.
Works wonders for note taking – With the iPad Pro, taking notes is now like the good ol' days when you sat in class and scratched down on a pad what the teacher said. While back then that pad was made of paper, today's pad is digital. How is this possible? It's all because of the Pencil stylus, which acts like a real pencil. Essentially, this turns your iPad Pro into a virtual notepad with the ability to keep all your notes in digital format in one easy and convenient place. What's more, your notes are automatically accessible from all your devices.
The bad
Subpar keyboard – According to one user, there is still much to be desired from Apple's smart keyboard. It lacks buttons such as the home key and keys to adjust brightness and volume. Also it doesn't have backlit keys, which can make it difficult to type if you're in a dark place.
Browser too often displays mobile website – The tablet tends to use mobile websites when browsing the web (which could be because the iPad Pro uses iOS 9 instead of a full blown desktop operating system). Obviously, this can be annoying as mobile websites are generally not as functional as the desktop version. With that said, iPad Pro can handle the desktop version perfectly fine, you just have to manually switch over to the desktop version on many occasions.
Limited storage – While the Microsoft Surface Pro allows users to add storage via micro SD memory cards, the iPad Pro has no option to increase storage. Of course, you can alternatively store overflow files and data on the cloud; however, keeping sensitive data there is not ideal for many business owners.
Fragile screen – The iPad Pro's retina display is capable of producing beautiful images, but the screen is also incredibly fragile. One user noted that even if you drop it from less than a foot off the ground, you are still likely to break the screen, which is not an inexpensive fix.
We hope this feedback provided by early iPad Pro adapters can help you make an informed decision as to whether or not Apple's latest tablet is suitable for your business. If you'd like to learn more about Apple products or need to service some of your own, don't hesitate to get in touch.