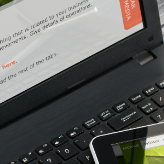 You might have a website but nowadays that is no longer enough. It is vital you have a website that looks good and has features that reflect well upon your business. A cheap looking, unappealing website is just about the fastest way to scare off new clients and make current customer reconsider their decision to do business with you. We have compiled a few things you can do to make your website really stand out.
Your website is most likely to be your first, and in most cases only, chance to make an impression on people. It used to be that a customer would come visit you in person or call you but that isn't the case anymore. Today they will search for your business on Google and head directly to your website. If they don't like what they see, they leave without a trace.
That's why it is imperative that your website is not only visually appealing but has content to engage visitors and help drive them to your business. While there are loads of features that can help you accomplish these, we've picked three of our favorites that we think can really help your website standout.
Contact Forms
You could have the most convincing sales pitch on your website that makes every person who visits want to buy what you're selling immediately, but if you don't have a contact form for them to fill out, most will never actually follow up with you. Even if you have your phone number and email prominently displayed throughout your website, most won't put in the effort to get in touch.
That's why a simple contact form can be a great way to help convert leads into sales. This is also a way to get people to signup for other services you offer such as email newsletters or free promotional material. Just make sure you don't over do it on the contact forms. Having too many on a given page can confuse readers and make it seems as if you're desperate to get their information.
In-house videos
While you may not believe it, people who visit your website want to see and hear from you. Having videos from other sources is a good start, but at the end of the day, it's your business and you should be representing it. Thanks to innovative technology and the rise of smartphones, it is now easier than ever to shoot and edit videos.
Don't worry about the need to produce slick, five-minute promotional videos with graphics and Hollywood-caliber lighting. Most people won't ever watch it in its entirety anyway. Instead, come up with a 30-second introduction video welcoming visitors and giving them more background information on what you do. It may seem simple but it can really connect with visitors who stop by your website.
Get customers involved
One of the best ways to improve your website is by incorporating user-generated content into it. There are quite a few ways to do this and most of them don't require that much work on your end. The easiest method to get customers involved is to feature testimonials on your website. Words from clients can resonate more with visitors than claims you make about yourself as readers are more likely to identify with these testimonials.
If you're feeling a bit brave, or don't mind visitors seeing honest and possible negative feedback, several review websites like TripAdvisor and Foursquare offer plug-ins that allow you to feature the reviews they have collected about your business on your website. There are, of course, pros and cons to doing this and if you have a lot of negative reviews, sticking with the testimonials is probably a safer choice.
Want more pointers on how to create a dynamic website? Need to learn how to better market your business online? Get in touch and we can show you how it's done.