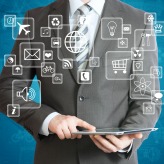 Over the past decade, as technology has continued to evolve rapidly, Google has gone from merely a search engine to a cloud-based application provider. Its famous product, Google Apps for Work, is gaining momentum in increasing its popularity among business owners, as a result of its numerous different applications and overall ease of use.
In a nutshell, Google Apps for Work is a cloud-based productivity suite and collaboration software application from Google that gives businesses all the benefits of cloud computing, including flexibility, scalability, and cost savings. Let's take a closer look at all it has to offer.
Gmail
Gmail is Google's webmail service, with over 400 million users worldwide. Although Gmail is available free of charge, you can get extended features for a low monthly fee, including custom company email addresses, unlimited group addresses, 30GB of inbox storage, and 24/7 help desk support.
Hangouts
With Hangouts, you can have a chat or group chat with your coworkers, start face-to-face group video calling, and share your screen and documents. Accessible via both desktop and laptop computers and smaller devices like smartphones and tablets, Hangouts is a powerful video chat application that is efficient and simple to use.
Calendar
Google Calendar allows you to stay in sync with your colleagues from anywhere, and on any device. These shareable calendars integrate seamlessly with Gmail, Drive, and Hangouts, so you can easily manage events, view and edit your schedule, and check your coworkers' availability.
Google+
Google+ is a social network platform designed to help you connect, share, and collaborate with your team members. You can customize and filter the dashboard's contents in a way that's suitable for you.
Drive
Google Drive is an online cloud storage platform that enables you to store all of your files in one place. These files are accessible from anywhere, at any time, and from any web-enabled device. You can get as much storage as you need, and also view common file formats without having to install extra software on your device.
Docs
With Google Docs, you and your colleagues can work on the same documents, in real time, allowing for better collaboration and efficiency. You can also leave comments and communicate through a built-in chat box. What's more, all edits and changes are automatically saved, and you can restore the revision history in an instant.
Sheets
Google Sheets contains the fundamental functions of the popular Microsoft Excel application. Whether you're looking to create spreadsheets and charts, perform calculations, or generate pivot table reports, Sheets has all these capabilities and so much more.
Forms
Creating surveys and forms online has never been easier. Forms allow you to build professional-looking surveys and questionnaires. You can collect answers by sending the URL to respondents. It's that simple! You can track and analyze responses in real time in order to gain valuable insights from your surveys.
Slides
With Slides, you can work on a single presentation online with your colleague, your whole team, or even external contacts. You can also control who gets the permission to edit or view the slides with just a few clicks. Again, there is no software installation required.
Sites
Looking to create an internal website to train your new hires? Want to build a project site for your team? These can be done easily, and without needing any coding experience. Simply choose a template from Google Sites and determine what needs to be put in place to make your website successful.
For more information about Google Apps for Work and how you can integrate it into your business, give our tech professionals a call today.