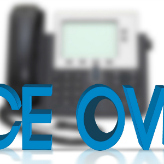 Have you ever wondered if your business is ready to make the switch to a VoIP phone system? You've probably heard the benefits of VoIP and thought they sounded pretty good, but perhaps you weren't certain it was the right technology fit for your business. Here are a few signs that your business might be ready for VoIP.
VoIP, or Voice over Internet Protocol, has been helping businesses communicate more effectively for a few years now. You probably use it in your personal life, with applications like Skype, but your company just might be able to take advantage of the technology as well. Look for these signs that might indicate your business is ready to make the jump to VoIP.
Your number doesn't match your target area
As your business expands, it can be easy to forget that your phone number will stay static. This may not seem like a big deal when conducting business in your own neighborhood, but what happens when your company's reach expands beyond its original area code? Chances are prospective clients who don't reside in your current area code aren't too inclined to call another one.
Despite the fact that most cell phone packages now include free long-distance calling, there is still a stigma around dialing those three extra, and unfamiliar, numbers, for fear of extra charges. The only way around this with a traditional telephony solution is to set up another office and install a new phone system in that area code.
However, with a VoIP telephony solution, you can get a number in just about any area code imaginable and have it direct back to your office. If your business covers a greater area, you can opt for a toll-free number which means customers everywhere will never worry about having to pay to call your office.
You employees use personal devices at work
It is commonplace for employees to use a cell phone to take work calls when they aren't in the office. However, unless you have issued cell phones to your staff, there probably isn't a reason for them to use their personal devices to talk to clients while at the office. If this is happening, there are two things you need to consider.
You first need to think about the fact that you have no way to monitor your employees' phone usage and behavior. Are they dealing with clients in a friendly and polite manner? Are they keeping with your company's message when speaking on the phone? Are they even talking to customers at all?
The second issue is figuring out why employees aren't using your phone system. Chances are it has to do with some usability or performance issues that ought to be addressed. There is no point in spending money on your current phone system if it isn't being used by your staff anyway.
Switching to a VoIP telephony solution can take care of both issues. For starters, it will provide an easy-to-use phone system for your office with far more features than you currently have.
More importantly, for staff who still wish to use their cell phones, calls can be forwarded from their work number to their personal device. This allows you to keep track of their usage without forcing them to give up their preferred method of communication. Since the call is still going through the VoIP phone system, you'll also be able to monitor it should you wish to.
Clients can't reach you
Sure, your clients probably have your work, cell and home phone numbers, but that doesn't mean they want to call them all trying to get a hold of you. VoIP can give your clients anytime access to you with a couple of different features. The find me/follow call routing system will see your work phone ring a few times, followed by your cell and then home phone, until you pick up or the call goes to voicemail. You can also set it up to have incoming calls ring on all your phones at once – useful if you would rather be able to pick up your calls on whichever device is most convenient at the time.
Give us a call and we'll show you how to pick up the phone on all types of VoIP and IT solutions.