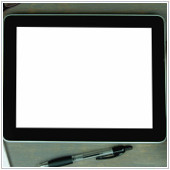 This fall, Microsoft and Apple are poised to release their newest tablets: the iPad Pro and Surface Pro 4. While some consumers will quickly opt for their favorite brand without giving it a second thought, others may like to know how these two really stack up. So if you're not sure which tablet to buy, here's how the iPad Pro and Surface Pro 4 compare.
Measurements and weight
When it comes to physical measurements, there is little difference between the iPad Pro and Surface Pro 4. The Surface weighs in at anywhere from 1.69 lbs to 1.73 lbs depending on which version you get, while the iPad Pro weighs slightly less, coming in at 1.57 to 1.59 lbs.
The iPad Pro is also slightly thinner, at 0.27 inches compared to the Surface's 0.33 inches. So at first glance, you may think that iPad has a slight edge in the measurements department, but the Surface makes up for its slightly bulkier size with a wide array of ports that include a microSD card reader, 3.5mm headset jack, mini DisplayPort, Type Cover port, and a USB 3.0 port. As for the iPad Pro, it lacks all of these and instead comes with only a Lightning port.
Display
As with the measurements (minus the ports), there is no extreme difference in display between the two tablets. The Surface Pro 4 has a 12.3 inch touchscreen with a resolution of 2,736 x 1,824 pixels, versus the iPad Pro's 12.9 inch touchscreen of 2732 x 2048 pixels.
Keyboard
Both the Surface Pro 4 and the iPad Pro come with an attachable full-size keyboard. And the one key difference here is that Microsoft's version comes with a trackpad, while the iPad Pro's does not. For the iPad Pro you will instead have to use your finger as a cursor to navigate the touchscreen – which system is best will depend on your preferences.
Operating systems
This is where the big difference between these two lies. While the iPad Pro operates on iOS 9, the Surface Pro runs Windows 10. Because of this, Surface Pro has a lot more versatility and power than iPad Pro. It has the ability to run full blown desktop applications like Photoshop or Lightroom, while iPad Pro isn't capable of this. However, for iOS lovers, iOS 9 provides new features such as improved multi-tasking and split screen.
Price
Here's the breakdown of the price difference between the two tablets.
iPad Pro
$799 – 32GB
$949 – 128GB
$1079 – 128GB + LTE cellular radio
Surface Pro 4
$899 – 128GB (most affordable version)
$2,699 – 1TB + Intel Core i7 + 16GB of RAM (highest-priced version)
Prices range anywhere in-between, depending on storage, RAM, and processor options
Conclusion
It really depends on what you're looking for. The Surface Pro 4 is more of a PC that looks like a tablet, while the iPad Pro is essentially a tablet. The operating system is the key difference that separates the two. If you want a tablet that runs like a full-blown computer, go with the Surface Pro 4. However, if you're an Apple fan, the iPad Pro now provides you a larger screen than its predecessors, as well as more versatility and the option of a keyboard.
Still unsure which tablet is right for you? Need help with your current iPad? Call us today.