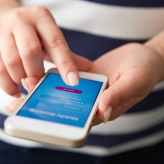 Static biometrics like fingerprint sensors should make life a lot easier; no longer do we have to type in security passwords on our mobile phones, or risk having passwords breached. Still, this technology is only available on high-end smartphones, and is not ubiquitous. But thanks to behavioral biometrics, the future of mobile phone security could soon very well change for good. To that end, here's all you need to know about behavioral biometrics.
What's it all about?
Behavioral biometrics focus on uniquely identifying characteristics related not necessarily to who you are, but to what you do.The stress is on the recognition and analysis of something all of us do all the time on our smart devices – typing – as a new way of establishing identity.
How does it work?
"The technology profiles how a person interacts with a website on their smartphone by analyzing their typing rhythm, how they hit and release keys, the pressure they put on the screen as they type, the angle they're holding their phone, and how quick they move across the screen," says Dr. Neil Costigan, CEO at Swedish IT and security company BehavioSec, which has a patented technology that can be integrated into an app or even a smartphone OS.
Combined with data from a smartphone's built-in accelerometer and gyroscope, it's possible to come up with a profile of each person. This could allow for monitoring of typing in real time in order to verify a person is who they say they are, just by watching their typing behavior. "The tech works on all models and makes of smartphones and doesn't require extra hardware," added Costigan. In fact, Costigan's continuous process of verification has already been used by banks across Denmark, Sweden, Norway and Germany as part of efforts to detect and counter fraud. The technology was showcased as possible future-phone tech at Google's I/O 2015 conference, and has the potential to be installed on every phone rather than just being limited to banking apps.
Looking to learn more about mobile technology and how they can change the way you work? Contact us today; we're happy to talk.