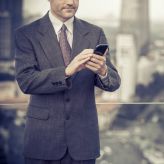 Brace yourselves, Windows Phone fans – Microsoft is about to launch the latest Lumia 950 smartphone at its annual event this coming October 6th. For the best part of 2015, Microsoft has directed its focus on the affordable segment of the smartphone market. But not for much longer – this new Lumia 950 release is expected to possess powerful hardware and specs, as well as a premium all-metal design.
Microsoft has been working hard on developing the Lumia 950, the first smartphone to utilize its Windows 10 Mobile operating system. The rumors about the Microsoft Lumia 950, codenamed "Talkman", have been around for a good while now. Here's what you need to know about the tech giant's latest smartphone product.
Design and display
Rumor has it that the latest Lumia 950 will come with a metal frame, coated with matte white or black polycarbonate, with a thickness of just 8.89mm thickness. The device will sport a 5.2-inch screen display, with a Quad HD resolution of 2,560 x 1,440 pixels.
Hardware
The Lumia 950 is going to boast a 64-bit Hexa core, most likely the Qualcomm Snapdragon 808 processor, as well as 3GB of RAM and an internal storage capacity of 32GB. Users have the option of expanding the memory with a microSD card.
Camera
Microsoft will integrate a powerful 20-megapixel PureView primary rear camera, capable of shooting high-definition video, and a 5-megapixel front-facing camera. Additional features include optical image stabilization, autofocus, and social media geotagging.
Battery
It is said that Microsoft's new Lumia 950 will incorporate Qualcomm's Quick Charge 2.0 technology, allowing for faster battery charging (up to 60% within just 30 minutes). The Lumia 950 will be equipped with a detachable 3,000mAh battery, so you can expect it to last for a full day, even with heavy use.
Price and release date
Although Microsoft hasn't yet revealed the exact price or a release date for the upcoming Lumia 950, the price point is expected to rival that of the iPhone 6s. The release date is most likely to be on October 10, the very same day Microsoft plans to launch its brand new operating system for smartphones, Windows 10 Mobile.
Overall, the Lumia 950 comes with plenty of improvements that Windows Phone fans will love. It is faster, lasts longer, and is more stable. Want to learn more about Windows Phone and how to use it in your office? Get in touch today.