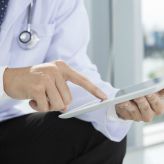 Wearables, mobile apps and other mobile health (mHealth) devices are the latest technologies entering the healthcare industry. Some hospitals may have held off adopting mHealth, believing they won't benefit much from it. Others remain concerned their patients won't have much interest in these tools, or technical the knowledge required for them. But recent research shows a growing interest for patients when it comes to using mHealth, due to its cost-effectiveness and convenience. If you're wondering what mHealth is, or are considering implementing it into your practice, here's what you need to know.
mHealth defined
mHealth, also known as mobile health, refers to medical and public health practice supported by mobile devices, such as mobile phones, patient monitoring devices, personal digital assistants, and other wireless devices.
How is mHealth used?
Medical institutions across the globe have applied mHealth to deliver healthcare and healthcare information to patients, with satisfying results. Some of the most common uses of mHealth include:
Remote data collection and monitoring
Diagnostic and treatment support
Telehealth and telemedicine
Patient safety systems
Emergency response systems
Healthcare staff telecommunications and training
Advantages of mHealth
There are many advantages of adopting mHealth, including its versatility across all aspects of health care and its potential to improve the monitoring of patients. Let's take a closer look at the top three benefits of mHealth.
Improved data accuracy – entering medical data into mobile devices such as mobile workstations, laptops, and tablets helps eliminate the data entry errors that often occur when information is first recorded on paper and entered at a later time in electronic medical record (EMR) systems.
More data access – implementation of mHealth enables healthcare staff to not only enter, but also access, critical patient data from anywhere, at any time. In a scenario when you want to download, view, or transmit a patient's health records online, you can easily do so with mHealth.
Better patient care – the ultimate goal of any healthcare technology is to improve patient care, and mHealth can definitely deliver on that promise. For instance, doctors can refer to their mobile devices for a list of viable diagnoses that they may not have otherwise considered, in order to ensure that patients get the best possible treatment plans.
Current market for mHealth
The number of mobile device users is increasing every day. The expansion of wireless network coverage also provides digital health systems with new possibilities to address even the most complex healthcare challenges. This leads to an increasing acceptance of mHealth in the medical industry. PricewaterhouseCoopers, one of the largest professional services firms in the world, has estimated that the mHealth market will expand to $23 billion by 2017.
mHealth allows physicians to keep a close watch on their chronically ill patients without having to see them in the office. What's more, they can collect health metrics such as weight, heart rate, blood pressure, and blood glucose levels remotely, allowing for more convenience and cost-savings.
If you want to learn how implementing healthcare technology can benefit your business, get in touch with our experts today.