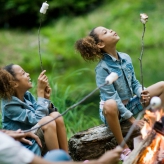 Following in the foodie footsteps of its predecessors comes Google's latest operating system for Android devices – Android 6.0 M, otherwise known as Marshmallow. It's the big sister of Lollipop, the operating system currently installed by most Android users. It's likely to be some time before a release date is confirmed for the new operating system to be available for download to devices, but the Developer Preview has already been let out of the cage. Here's what Google has in store for us when Marshmallow does eventually arrive.
Marshmallow was first announced at the Google I/O conference earlier this year, but it's taken a while for a version to come through that's ready for developers to get their hands on. However, that's now happened, and the first publicly available release of the operating system is expected to be on the new Nexus 5 and 6 mobile devices in the coming weeks. Sadly, the rest of us are unlikely to have a crack at Marshmallow until the end of 2015 at the earliest. But when that time does come around, it's packed with these developments.
Visual voicemail
No more dialing voicemail and listening for long-winded prompts – Marshmallow is set to offer visual voicemail functionality from right within the main phone app. That means you can see at a glance who has left you a message, listen to each voicemail, and quickly hit a button to get more information or call or text back – all without needing to wait for a long list of options to play out first. Since this feature requires work at the carrier's end to enable compatibility, it's expected to be available only on a handful of networks to begin with – but the list should grow as time goes on.
Screen rotation
Here's something that competitor Apple has offered its users since even the earliest iterations of its devices – the simple ability to rotate the screen and use it in landscape as well as portrait view. It's a wonder it's taken Google this long to realize this was a big and frustrating gap in the Android's functionality, but at least the wait is over. You'll now be able to rotate the screen whether you're on the home screen or deep in an app.
Improved app drawer
Previous releases of the Android operating system have switched up Apple's conventional single-level, horizontal-scrolling app drawer – used for accessing apps that are already open – with a bigger and vertical-scrolling drawer. But until now this has been plagued by bugs and apparently poorly-thought-out design, with out-of-place alphabetical organization and an ineffective use of space. Marshmallow sees these fixed, with space for more icons on screen – meaning faster and simpler scrolling – and floating alphabetical icons that both save space and look cleaner.
When it's finally released in full, Marshmallow will also pack in a range of other smaller updates. If you want to learn more about how to integrate Android devices into your business and optimize productivity in the process, just give us a call.