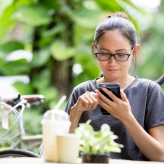 While there have been rumours circling online about Microsoft's plan to kill the Windows Phone altogether, the tech giant's latest release for the Windows Insider Program – where users can sign up for an early build of the Windows OS – proves otherwise. Here we'll take a look at the new build 10149 OS, a preview to Windows 10, and see if it's worth installing or if you're better off waiting.
Microsoft Edge
The first thing you'll notice in this build is a brand new browser, Microsoft Edge. Microsoft Edge is set to replace Internet Explorer as the default web browser on Windows 10 PCs, smartphones and tablets. It is integrated with Cortana and OneDrive, and also includes annotation tools, reading mode, and the option to browse websites in either mobile or desktop view. Do note that Microsoft Edge has a new app ID, meaning favorites, cookies, history and reading-list items that you saved in the Project Spartan app will be lost after upgrading.
General UX improvements
Among the many refinements in this build is the clear and crisp Start screen. Visuals and icons such as volume controls are updated and are more responsive to use, and the navigation bar can now be hidden. Microsoft has also fixed issues like text notifications not appearing for incoming messages, as well as apps that couldn't be installed or updated.
Cortana refinements
The build 10149 sees Cortana's Notebook in its final stage, with combined Profile and Settings experience. You can now send an email by saying everything at once – such as who you want to email (you can give the names of multiple recipients), the subject of the email, and what you want your message to say. And with an Internet connection, you can also make corrections with your voice – though this only works for US English right now.
Flash to flashlight
One of the most popular requests of Microsoft from its users was to add a Flashlight "quick action" to allow you to turn your phone's camera flash into a flashlight, and that's exactly what they've added. To enable this feature, simply open Action Center and expand Quick Actions.
Improved Photos app
The update to the Photos app includes new capabilities such as support for animated GIFs (which works with phones with at least 16GB of RAM). Links to your saved photos, screenshots, and camera roll are also available on the Albums page.
Overall, the build 10149 looks to be an important turning point for Windows 10 Mobile. It is faster and more stable, and comes with plenty of improvements that enhance practicality for everyday use. To try it out, make sure you're part of the Windows Insider Program by signing up here. Looking to learn more about the benefits of Windows Phone? Contact us today; we're sure we can help.