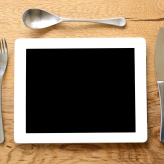 Android tablets have increasingly gained popularity among users looking for features of a laptop with enhanced portability and a justifiable price tag. The latest addition to the family, the Nexus 9 features the much anticipated Android 5.0 Lollipop OS. But what are the specs of the Nexus 9 and is the new OS worth getting excited about? We'll explore precisely that.
Hardware
Google has partnered with HTC to manufacture the Nexus 9. And while the tablet isn't the slimmest available, it is incredibly light. A more streamlined and subtle look is achieved through a well-constructed body and edges that are mostly free of flaps, ports and slots. The quad-core Qualcomm silicon that powered the Nexus 7 is replaced with NVIDIA's new 64-bit, dual core Tegra K1 chipset with 2GB of RAM, allowing for more powerful graphic performance and speed. Note that the Nexus 9 is available in 16GB and 32GB with no microSD expansion slot.
Display and Camera
The LCD screen runs at 2,048 x 1,536, which isn't as sumptuous as the AMOLED screens offered by other brands in the market but is still portable, lightweight and powerful. There's a noticeable change in material design with new colors, layers and motion, including lots of vivid hues and drop shadows to keep everything distinct. The 1.6 megapixel front camera is unsatisfying, but the 8-megapixel main camera around the back is crisp and well saturated. The Nexus can shoot 1080p video footage, offering great quality unless there is interference from ambient sounds, in which case you'll be left with some messy audio.
Software
The Nexus 9 comes loaded with the new Android 5.0 Lollipop, and the new OS is the best we've seen from Google yet. The first plus is the bump in speed and responsiveness when swiping through multiple home screens and sifting through opened apps. Impressively, there is no hint of lag. App previews show up nearly instantaneously and run with fewer hiccups than on other similarly specced devices. Google's Android Runtime (better known as ART) offers noticeable app performance gains. Because key pieces of code are converted into native machine code, the device can interpret these at the time the app is installed – rather than every time the app is launched – and so reduce slowdown.
When the tablet is resting, there's no need to press the power button. A quick double-tap on the screen will rouse it from its sleep. Priority alerts can be toggled from the notification shade, allowing you to work better without being distracted by Facebook updates and messages. You can also add new users, restrict profiles, and pin certain apps into place so that guests can't root through your personal stuff.
While the new Nexus 9 itself doesn't come packed with overhauled features, the Android 5.0 Lollipop is the real highlight and is set to please users with enhanced performance and functionality. Looking to learn how Android tablet devices can benefit your business? Give us a call and we'll be happy to advise.