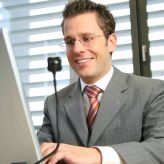 Companies wanting to stay ahead of the curve are implementing Voice over Internet Protocol (VoIP) to help drive productivity and reduce travel expenditure. When installed, VoIP allows you to connect to correspondents using broadband Internet. However, you need proper planning and network preparation before deploying VoIP – here are the key components you must consider prior to VoIP implementation.
Network
Implementing a VoIP phone system presents challenges of its own. For one thing, VoIP service cannot tolerate any kind of network interruption. You need to ensure you have alternative physical links to carry all of your VoIP traffic in the event that you lose your primary path. An uninterrupted power supply (UPS) should also be installed. This way your Ethernet switches and VoIP devices won't lose connection and go offline in case of power failure.
Security
As with other networks, VoIP is susceptible to cyber security threats and breaches. If you don't have reliable and preventative security measures in place, you could fall victim to information theft and malicious attacks. Your best bet is to deploy a dedicated internal firewall to monitor the traffic flow and protect your systems from security threats.
Bandwidth
VoIP is dependent on the bandwidth of your Internet. Therefore, an accurate estimation of bandwidth consumption is crucial for proper planning in order to accommodate VoIP traffic. You need to perform tests to ensure you have enough bandwidth to handle the inbound and outbound call traffic. Relevant information includes the number of users, the number of handsets, the duration of calls, and data usage levels.
Budget
VoIP is no doubt a long-term money saver for your business, but switching over from a traditional phone system, or a fresh installation, involves a cost. You need to take into account the expenses of purchasing the equipment required for VoIP installation, such as VoIP phone cables, external power supplies, and routers. Installation costs may vary greatly, but it is worth the investment if you're looking to take your communication systems to the next level.
Staff
Employee involvement and understanding is key to a seamless and successful VoIP integration. You can assign one, or a group, of your staff members the responsibility of learning about and managing your new VoIP systems. They can be the go-to person for any enquiries from other staff members. It is recommended that you ask a dedicated specialist to equip your staff with the information needed to utilize VoIP to its fullest potential. While most people are already familiar with video conferencing software such as Skype, it helps to create user guides and manuals to educate those that aren't as tech-savvy.
VoIP implementation can often be a hassle if you undertake it alone. With the help of dedicated professionals, however, the whole process can become much easier, less expensive, and more rewarding.
Get in touch with us today and we'll answer any questions you have on preparing your business to embrace this groundbreaking technology.