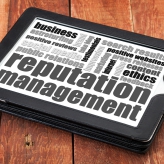 Almost every company out there has a website and social media presence, but the most successful ones also use Online Reputation Management (ORM). Simply having an online presence is no longer enough; your company must also be constantly monitoring it. It's easy to start working on your ORM and use it to take your company to the next level.
ORM is still a relatively new concept, and one that small and medium-sized business owners may not yet be familiar with. Simply put, ORM is the monitoring and protecting of your company's reputation online. Not only are you looking out for what your company is producing, but also what other people are saying about you.
You only control a limited amount of your company's message. Consumers using social media control the rest and can often times make or break your company. That is why more and more businesses are investing resources in ORM. While many companies choose to handle their ORM in-house, there are ORM service providers who can take care of the process for you.
Search for your company
Once you've determined who will be looking after your ORM, it's important to see how your business stacks up. The first thing you should do is search for your company on Google. The results are often telling for your business. Being at the top of the search results is a good sign, and shows your website has strong SEO terms and social media presence. If your company doesn't appear on the first two pages of search results, or the results that come up aren't what you want people to see, it's time for your ORM team to get to work.
Bolster your online presence
Creating quality content – to boost where your business shows up in the search results, or push down negative content – is the next step for your ORM. Remember, most people only bother with the first two pages of Google search results, so you want to own those. Other ways to bolster your online presence include registering with online business directories like Yelp or Yellowpages.com. These sites almost always rank very well in search results.
Another positive step would be to expand your social media portfolio to include sites you might not think of right away, like Google+, YouTube, Pinterest and even Tumblr. Being active on just a couple of these channels can further improve your exposure.
Set up a monitoring system
Finally, setting up a monitoring system will ensure your ORM is always up to date with your company's online profile. Signing up for Google Alerts can guarantee you are always informed of new brand or keyword mentions, while tools like Tagboard and TweetBinder will search various social networks for keywords and hashtags related to your business. These are valuable tools to ensure you're on top of what's happening to your business online.
At the end of the day, your online reputation needs to be not only robust, but sterling as well. That is why dedicating resources to ORM can not only protect your business, but help it grow as well. Clients will find your business easily when they search for it, and the results they do find will be the things you want them to see.
Want to know more about ORM or anything else internet-related? Contact us and we can help your business today.