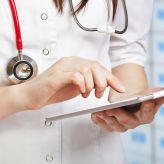 The healthcare industry is undertaking a transition from paper-based to paperless medical records, resulting in an expansion of electronic medical records (EMR) market worldwide. According to a new market report published by Transparency Market Research (TMR), a global market intelligence company, the trend for virtualization in the healthcare industry will continue to rise until 2020.
The rising trend of EMR
EMR is a digital version of a wide range of health-related information, such as patients' medical history, medications, laboratory test results, and diagnostic images. The system grants physicians and staff access to this data from virtually anywhere, allowing them to collaborate and work more efficiently, as well as being able to provide better patient care.
The adoption of EMR systems is increasing across healthcare facilities worldwide. In the past, EMR remained more prevalent among medium to large-sized hospitals than smaller ones, primarily because of budget differences. However, with the development of modern EMR systems, even smaller medical institutions are now able to benefit from the latest healthcare technology, and the market for EMR systems is expected to grow at a significant rate.
Causes for EMR growth
Some of the major factors contributing to the growth of the market are the significant advantages of EMR systems and financial incentives from governments. The benefits of implementing an EMR system include more accurate and up-to-date patient information, reduced operational costs in the long term, reduced medical errors from poor handwriting and coordination, quick access to patient data, increased patient participation, and the improved efficiency of healthcare providers. These advantages encourage healthcare providers to switch from traditional paper-based systems to a more advanced EMR system.
Another cause for EMR market growth is the financial incentive programs initiated by governments of various countries. For instance, the U.S. federal government allocated $27 billion in an attempt to encourage EMR adoption across the nation. As a result of this incentive program, more and more healthcare providers are implementing EMR, and the numbers are on the rise.
EMR market segmentation
According to TMR, about 42 percent of the total EMR market was held by North America in 2013. The second largest market was Europe, followed by Asia Pacific. These rankings are unlikely to change within the next few years, but the EMR market is seeing a steady growth in some Asian countries.
EMR is here to stay, and it's important that healthcare organizations implement it properly. Get in touch with one of our experts today and learn more about how EMR can benefit your healthcare practice.