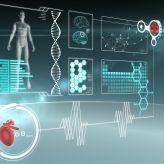 As a business owner in the healthcare sector, you'll be familiar with "Electronic Medical Records" (EMR). But implementing an EMR system into your practice is a big decision, and will only work if you have the full cooperation of a majority of staff members, if not all. To avoid the struggles, and headaches EMR implementation, here are some tips to prepare your employees for EMR.
1. Make a clear announcement
Announcing the transition is an extremely important part of the success of your implementation. Start off by presenting the need for a change in a formal, referenced way which proves the advantages of switching over to a paperless system. Every staff member should understand what is happening, what their tasks are, and what is to be expected of them during and after implementation.
The presentation should highlight the many benefits of EMR and how the initial expenses can be justified with the long-term cost savings down the road not to mention more streamlined operations. Once equipped with all the facts, your team will likely be more receptive to new technology.
2. Focus on top staff members
You should focus on gaining acceptance from the top tier of staff, especially senior physicians and administrators. The entire implementation process can be made so much easier with support from the staff who carry authority and have the relevant knowledge.
3. Designate super users
It is more practical to identify one or two super users, who will be the go-to people for any EMR questions other staff in your company may have. Equip them with the knowledge and skills they need to provide tips and guidance to others. But you can't just choose anyone for the job – you need people who have high computer literacy and are able to quickly keep up with changing technology. If you don't have any super users in mind, you can identify these people by conducting an internal job search and select those that qualify for the position.
4. Conduct feedback sessions
Once your EMR has been successfully installed and you begin using it with patients, you'll probably come across a few problems along the way – whether it's a function that your staff don't understand, or workflow processes that needs to be redesigned. The only way to quickly resolve this is to ask staff for feedback. Schedule a weekly or bi-monthly feedback session to discuss with your staff about how they're handling the changes, and whether anyone can highlight areas of that could be improved.
5. Take advantage of online resources
A super user would have answers to any EMR-related questions that come up, but this isn't always the case. In these circumstances, you can browse educational materials provided by your EMR vendor. They are a valuable source of information that contain training manuals, video tutorials, community forums, and webinars.
Implementing a new EMR system brings about many challenges for your practice. By following the tips outlined above, you can avoid employee resistance and even accelerate the transition process. Want to integrate an EMR system into your business? Get in touch with our technicians today and find out how we can help.