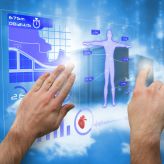 Cloud computing and cloud-based applications are steadily becoming more widely accepted and adopted by healthcare organizations across the globe. They are continually evolving to meet the growing requirements in the healthcare industry. And in recent years, many healthcare providers have shifted their resources to cloud platforms – for good reason. Here's why you should implement cloud computing into your medical practice.
Easy information access
The increasing demand for doctors' time often means that they are only able to view patient records in the evening. In the past, this meant being stuck in an office for hours. But with cloud computing solutions, doctors are able to quickly and easily access medical records from anywhere, at any time. By recording medical data in a word-processing application and storing the files in the cloud, doctors are able to provide high-quality care to patients.
HIPAA Compliance
The Health Insurance Portability and Accountability Act (HIPAA) is a federal regulation created to protect sensitive health information with a list of requirements by which medical practitioners need to abide. Failure to meet HIPAA requirements can result in heavy fines and penalties. Cloud computing is one of the best ways for healthcare organizations to stay HIPAA compliant, since it offers advanced security as well as encryption and backup, to protect healthcare information.
Cost reduction
Cloud computing has vast potential to help healthcare organizations cut expenditure. By adopting cloud-based solutions, you don't have to pay for expensive on-site hardware and infrastructure installation and maintenance fees, nor the costs of new software updates. Cloud computing also helps boost efficiency and productivity, and allows your IT department do more with fewer staff.
Scalability
Unlike hardware infrastructure, you can easily scale your cloud storage solutions to fit your needs, allowing you to manage and maintain your ever-growing patient data with ease. Just consider how much office space you need to store five years' worth of healthcare records. With the help of cloud computing, however, you can virtualize and store the medical records in secure cloud storage, and retrieve them within seconds.
Better data backup and recovery
If your healthcare practice were to face an unexpected disaster, what would become of your paper medical records? Most of your precious data would likely be either damaged or destroyed, and so too would your years of hard-earned reputation. Things are different when you opt for cloud computing. Most service providers will make a backup of your backups for maximum protection and redundancy, allowing you to get back to serving patients within hours, not days.
Want to learn more about how cloud computing can assist in your healthcare practice? Get in touch with one of our tech experts today.