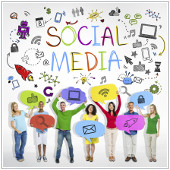 Most of us know that gaining a foothold on social media takes time and effort. But if you're at the point where you've already put in hundreds of hours of work with few results to show for it, you're likely doing something wrong. There could be a number of different reasons for this, but here is a common trap that a lot of social media newbies fall into. And it starts with your content creation.
Don't recycle content
Google any recent news story, and you're likely to find anywhere from a few to several dozen articles on the same subject. And unfortunately, the content is so similar that you can barely differentiate one from the next.
If you want to stand out from others on the social media scene, find something new to talk about. In general, if you want to get noticed by new customers or followers, it's best to avoid widely covered topics. Everyone and their grandma will be writing about it, which creates much more competition for your version.
If you must create content about mainstream topics, make sure you take the time to come up with a fresh perspective, and share valuable information that hasn't been touched on yet.
Be fearless in your content
Similarly, it's absolutely essential that, across all the content that you produce, you share a unique perspective. Many people end up parroting the same thing as everyone else because they are afraid to offer their true opinion. Don't be afraid to speak up and be controversial. If you're going to develop a social media persona that stands out, you need to develop your own voice – and a thick skin. There is always going to be someone who disagrees with you, especially on the web where it is easy to remain anonymous.
Additionally, there's a reason that the saying "there's no such thing as bad publicity" is famous. In fact, when you write polarizing content that will have a fair share of supporters and naysayers, people are hardwired to react to it. This is for the same reason that humanity as a whole shares a universal love of stories – whether that's in the movies, in a novel or around a campfire. A story is nothing without conflict. When you produce content that creates a real life conflict of opinions, you have a better chance of it making some noise on social media.
But – be honest and show integrity
Don't say something controversial just for the sake of it. Give your honest opinion. The key to every aspect of sales is developing trust. That means that with any customer or potential follower you come into contact with, whether through social media or other means, you should show your true self. You'll have a better chance of gaining a customer or follower for life.
Controversy or not, always be professional
There's no reason to start a flame war, or resort to name calling and insults. People are going to have strong feelings about controversial content. Emotions are going to come up and people can say some pretty mean things – especially on the internet. Don't get caught up in the comments and negativity. If you do, it is sure to leave a bad taste in the mouths of your current customer base and followers.
Want more insights into growing your social media presence? Speak up today.