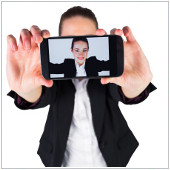 Love them or hate them, selfies are here to stay. And with facial recognition technology becoming both more advanced and more mainstream, selfies have now found their way into the online security world. MasterCard is the most recent global corporation to join in on the trend. Here's how they're planning to integrate facial recognition technology into the online payment process.
At the beginning of this autumn, MasterCard will acquire the help of 500 customers to test out a new application that enables people to verify their identity and authenticate online transactions with a facial scan. What does this mean? Instead of using a traditional password at the online checkout, MasterCard wants to give you the option to snap a selfie instead. According to the credit card giant, they've partnered with every smartphone company in the business to make this mode of identity verification possible.
Why is this happening?
A quote from Ajay Bhalla, security expert at MasterCard, suggests this is an attempt by the credit card giant to appeal to a younger crowd of digital natives. "The new generation, which is into selfies…I think they'll find it cool. They'll embrace it," Bhalla recently said.
That said, the "cool" appeal to youth is likely not the only reason for this change. The firm is likely attempting to make online purchases both more secure and more convenient.
How it works
To use this technology, users will have to download a dedicated app, which they can then use to take a photo of themselves at checkout. But how does MasterCard prevent a thief from using a photo of you to fake your verification? Simple – the app requires you to blink to prove that you're a living, breathing human being.
However, it's been noted by critics that, in today's technological world, even a blink can be animated on a static photo. This leaves those of us with security concerns wondering whether MasterCard will make this app more secure before it's released.
Note as well, though, that MasterCard is not getting rid of traditional passwords completely. Users will still have the option of the more conventional method of verification, as well as the choice of fingerprint scanning to check your identity.
Is this where the future of online security is headed?
With the release due later this year of a similar Windows 10 security application to identify users using biometrics, it appears that this is where the future of online security is headed. And with ever more applications and online services requiring a password, it is becoming increasingly difficult for the average web user to create one that is both unique and secure for each individual service. So whether it's facial recognition, a fingerprint scan or some other technology that's yet to be perfected, it seems as though some sort of more advanced security solution is inevitable.
Want more of the latest security news? Looking to implement new security to protect your IT infrastructure from cyber threats? Get in touch today.