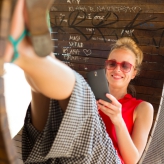 At this year's Google I/O, its annual software developer conference, the tech giant announced the Developer Preview of the next version of its Android operating system. Unofficially called the Android M, the latest OS is packed with many new features worth getting excited about. With that in mind, let's take a look at the features you can expect to see in your next Android phone's OS.
Custom Chrome Tabs
If you're annoyed by having to switch to the Chrome browser while you're in a particular app, you'll be glad that those days are over. Android M delivers a better web experience with Chrome Custom Tabs that allow you to include Chrome web view within an app making it easy to multitask. The Chrome browser will run atop your app in case you click on any link within the app, and features automatic sign-in, saved passwords and autofill.
Android Pay
Android Pay is Google's new mobile payments system designed to make the checkout process easier and faster. Set to be available at 700,000 stores across the United States, Android Pay will work at any payment terminal equipped with NFC. Using it is simple; just unlock your phone and place it in front of an NFC-compatible POS terminal.
Fingerprint Support
Google aims to standardize support for fingerprint scanners on all phones running on Android M. This new function will allow fingerprint scanners to be used to unlock phones as well as for making purchases using Android Pay.
Google Now on Tap
With Android M, Google Now will become smarter than ever before. You'll be able to get contextual information on anything you have running on your phone's screen. For instance, if you're watching a video on YouTube, holding down the home button will provide you with more information about someone in that video.
Doze Mode
This feature uses your device's motion sensors, be it your phone or tablet, to detect when a device has no activity for a period of time, and to then automatically shut down certain processes in order to help save battery life. While in the Doze state, the system can still be activated by alarms and high-priority notifications. According to Google, Doze helped increase the standby time on the Nexus 9 by almost double when compared to the Android 5.0 Lollipop.
App Permissions
Currently, you have to accept all permissions when you install an app, which could lead to a security breach. With Android M, you can decide which permissions you want to allow or revoke, based on when those particular functions are used. For example, you can give WhatsApp access to your camera but not your microphone.
App Links
With Android M, it will be easier than ever to link from one app to another without having to land on a web page in-between. How? A special verification method ensures that app-specific links go to the right place; for instance, clicking a Facebook link in an email will take you directly to the Facebook app instead of a redirected Facebook web page that you'll likely have to sign in to.
Direct Share
This new feature lets you share content with your most frequent contacts or apps with a single click. Android M will learn which app you share content with the most and place it at the top of a list, as well as letting you also share content with the people you contact more often. Everything will be placed directly in the share sheet for your convenience.
Simplified Volume Control
This new simplified volume control will let you independently change ringtones, media or alarm volume directly from the volume rocker instead of having to go into different settings.
Auto App Backups
Accidentally deleted an app? Not to worry; auto app backups allow you to download it again and set it up like it was before. For now, Google is limiting the backup size to 25MB per app, though this space is not counted towards the free 15GB storage space offered in Google Drive.
Android M is expected to be released later this year but you can download the Developer Preview here now if you have a Nexus 5, Nexus 6, Nexus 9 or Nexus Player. Interested in learning more about how an Android Phone could benefit you? Just give us a call; we're sure we can help.