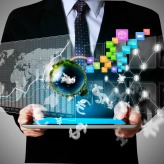 Companies need to effectively advertise their products and services if they are to stay competitive in today's market. But choosing the right marketing approach for your business is not easy, and you could end up spending more money on advertising that you actually make from it. This is where a well thought-out marketing strategy can help. Let's take a look at some online marketing tips to help you plan, execute, and monitor your advertising campaigns.
Prioritize blogging
Blogging is an excellent marketing tool for businesses. Unfortunately most companies don't spend much time or effort developing their blogs, which is a huge mistake. To get the most out of your blog, you will need to write quality content that adds value for your website visitors. The benefits of having a blog increase tenfold if you publish regularly, since potential customers will see you as an expert in your field, and are more likely to purchase what you have to offer.
Advertise in the right places
There are a number of online advertising channels out there, among them Facebook Ads, Google AdWords and Youtube Ads. The question is whether you know which one is the right fit for your business. You need to spend your marketing budget on the right advertising method to gain the highest return on investment. Do some research about your potential customers and determine who they are, and what they read, watch and listen to. This way you can pinpoint the best advertising platform to ensure that you reach your target market.
Start using videos
Videos offer an excellent way to market your business. Studies show that customers are more likely to buy if they see a video about your product or service on your landing pages, so make sure you include one if you can. Be creative when you're making videos to promote your business; you could start building an online reputation by creating instructional videos that help your potential customers solve common problems. Commenting on videos relevant to your niche is also an effective way to increase your brand visibility.
Be active on social media
Prudent businesses are aware of the importance of establishing a social media presence through the main social networks like Facebook and Twitter. But simply posting articles or links is not going to offer many marketing benefits for your business. You'll need to go the extra mile to maximize the benefits of social media. Some tips include taking the time to respond to your followers' comments, keeping your profile updated and fresh with new information, and following and sharing content from other users.
Make sure your website is responsive
More and more of us are using mobile devices to browse the Internet and look for local products and services. Make the effort to ensure your website is mobile-friendly and automatically scales to fit all screen sizes, so that it is accessible and functional for mobile users. Major search engines now penalize non-responsive websites by lowering their search rankings when viewed on mobile devices, so you'll need to adapt accordingly to avoid their wrath.
Contact us today and learn how our IT services can help you gain more customers and add value to your business.