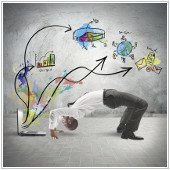 We're all busy. That's why if you're a Mac user and not familiar with your computer's shortcuts and tips, they can be a useful advantage that will save hours of your time in the long run. For those who are not well versed in shortcuts and other handy tricks for their beloved Apple computer, here are four tips that will make using your Mac even easier.
Open Programs and Files Faster
Want a quicker way to open files and programs faster? If you're tired of opening Finder and scrolling through the hundreds of applications and files you have stored, there is a much more efficient solution – Spotlight Search.
To use Spotlight Search, follow these steps:
Press Command and the space bar to launch your search.
Type the first few letters of the file or app you'd like to open.
From the drop down menu that appears, scroll down to the app or file you're searching for and hit the enter key.
Force Quit Apps
When the pinwheel of death rears its ugly head, your application stalls and your productivity comes to a standstill. There is no better time to make use of the Force Quit shortcut. Here's how to do it.
Press Command-Option-Esc to display the list of all applications that are running.
From here simply choose the one you'd like to quit.
Take a Screenshot
Pictures speak a thousand words, and sometimes you may need an image of your display to more thoroughly communicate a message. Here are three easy ways to take a screenshot on your Mac OS.
Take a snapshot of your entire display – press Command-Shift-3.
Take a screenshot of any open window – press Command-Shift-4, followed by the space bar. Then, simply click on the window you'd like an image of.
Snap a customized image of your display – press Command-Shift-4. When the crosshairs appear, use them to drag a frame over the portion of the screen you'd like to capture.
Launch frequently used Apps, Files and Server Connections automatically
This trick allows you to save time by automatically launching a program when you log in. Follow these steps to do this:
Go to System Preferences
Choose Users & Groups
Select your account
Click on Login Items
Use the plus and minus signs to add or remove programs, files, folders, etc. you'd like to automatically launch upon login
Click Add to save
These are just a few of the dozens of shortcuts and features Mac OS has to offer. If you'd like to learn more or need other IT-related assistance, don't hesitate to contact us.