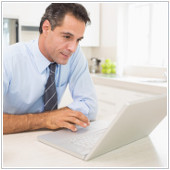 When many people think of remote working, they imagine a person lounging on the couch in their pajamas with a laptop. Does this vision stir up images of productivity? We doubt it. That's why it's important to instill the proper habits of a work-from-home culture into your remote workers' minds. Here are a few principles every employee should consider when working remotely.
Don't change your routine
Would you go to the office without brushing your teeth or combing your hair? Probably not. Believe it or not, it's not a good idea when you're working remotely either. Sometimes the simple act of preparing for your workday – jumping in the shower, shaving and so on – can put you in the right frame of mind to work. If you or your staff are finding it difficult to be productive at home, try sticking to a pre-work routine and see if it makes a difference.
Designate a specific workspace
Attempting to work while sitting in your bed or lounging on the couch can be a recipe for a productivity disaster. So instead, try designating a specific space where you work everyday. It can be as simple as a desk set apart from the rest of your living room or bedroom, but just make sure it's not cluttered with non-work items (like a TV remote or fiction novel), and that it's properly lit and comfortable.
If you're working from a coffee shop, airport or other public place, consider using a pair of headphones to help drown out the noise so you can focus. Eliminate as many distractions as possible, and the productivity will come.
Stay connected to your team
Thankfully, cloud computing has made it unbelievably easy for your remote workers to stay connected to the office wherever they are. If your business is setup with Google Apps, Microsoft Office 365 or another cloud product, make it a requirement that your employees access it daily and remain available. When your staff is connected to your business this way, it will strengthen their relationship with other employees and the organization as a whole. Generally speaking, more connected employees are more productive ones.
Log off
When you work remotely, the line between work and personal life blurs more than ever. To avoid burnout, it's important you discipline yourself to log off after you've put in a full day's work. Whether you choose to work from 9 to 5 or 4pm to midnight, define work hours and stick to them. This will help you completely disconnect at the end of the day, which will ensure that you're properly rested and prepared for the next.
Want more tips on productive habits for remote working? Are you ready to empower your staff with cloud computing to help them along? Let's talk. Call us today.