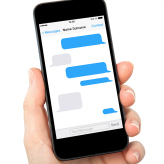 In the pre-smartphone era, the SMS event notifications provided by Google Calendar were an important part of the service. They allowed you a gentle nudge in advance of your upcoming engagements, even if you weren't at your desktop or laptop computer. But as technology has advanced, it has become easier for the majority of us to receive notifications about upcoming events, and last-minute changes to them, through our smartphones, even when we're offline. As a result, Google is switching off SMS alerts – here are the details.
Google says that, in 2015, SMS notifications of upcoming diary engagements are no longer needed. It's true that you no longer even need an internet connection on your phone or tablet in order to receive alerts.
With Google's announcement, if you currently use SMS notifications then you'll instead see pop-up notifications on your mobile or desktop device. These only function on mobile devices if you have a calendar app installed – either Google Calendar or a rival app native to your device – and on desktop devices if you have the web version of Google Calendar running in your browser.
If you're not already a smartphone user, the transition is less simple – and now might be the time to make the move to a smartphone. The alternative is to manually switch your SMS notifications out for email alerts within the settings for individual events, both recurring ones and those that you create going forward. But bear in mind that, without an internet-connected smartphone, you won't have access to email notifications of event alterations while you're on the move.
If you are using a corporate Google account designed for education, government or business, you're safe – for now, support continues for SMS notifications for users of these services. But if you rely on a personal account to power your Google Calendar scheduling, you'll need to adapt to the change in time for the June 27 switchover.
Want to learn more about using Calendar and other Google apps to streamline your personal and business lives? Give us a call and see how we can help.