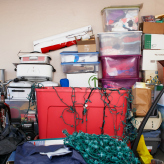 For all the undeniable value that email brings to both personal and business users around the world, there's something else that can't be denied: the amount of time we waste dealing with the seemingly endless flow of unwanted and irrelevant messages that land in our inboxes. Even when a message is somehow valuable to us or our business, chances are it's not something we need to deal with right there and then and disrupt our productive flow in the process. But no matter how many email management hacks we use to try and control email flow, the messages keep on coming. Clutter from Outlook could be the magic solution.
Originally announced at Microsoft's Exchange Conference at the start of 2014, the Clutter add-on for Outlook began rolling out last November to Office 365 business customers who had signed up for the first release. During the initial trial period for Clutter, the function was disabled by default – now that's been changed, and as of June 15 the tool was due to be turned on by default for all Office 365 users.
At the heart of Clutter is a desire to prioritize email, and move less important messages from your inbox so that you can review and deal with them at your convenience. With only your highest priority emails waiting for you in your main inbox, the idea is that you enjoy fewer distractions and so enhance productivity in your real job – which, for most of us, isn't email at all. Clutter is an intelligent tool, meaning it picks up hints on which emails are important to you based both on the type of the message and how you are addressed in it. It also uses the Office Graph social feature to track your prior actions both within the Outlook Web App and on Outlook clients for desktop and mobile devices.
Messages identified as lower priority are whisked away to a specific Clutter folder for you to review when you have the chance. Alternatively, you can simply choose to ignore the messages, treating the Clutter folder as another kind of junk filter, and the messages will remain conveniently out of view. In order to ensure that it doesn't inadvertently start mis-identifying messages as low priority, Microsoft is keen to stress that Clutter won't do anything until it is confident it has a thorough understanding of your behaviors and your email preferences – for most people this will happen within a matter of days, depending on the volume of email you receive.
You'll receive daily and weekly notifications so you're aware which messages Clutter is moving, and don't miss something important – significantly, these notifications are no longer sent as emails, since replacing an inbox-cluttering message with another one would seem to somewhat detract from Clutter's purpose. If a message is wrongly picked up as low priority and moved to your Clutter folder, you can move it back to your inbox to be dealt with sooner, and Clutter will learn from the mistake in order to improve its handling of your messages in the future. In the same way, you can choose to proactively teach Clutter about your preferences by marking specific low-priority messages as Clutter.
According to Microsoft, Clutter already shifts more than a million low-priority messages daily, and saves its users almost an hour and a half in productivity each month – figures which are expected to rise as the tool is adopted more widely. If you've already enabled Clutter manually, or have enabled it but later switched it off, nothing will change; if you haven't yet taken any action at all, it will be automatically turned on for you if it hasn't been already. If you want to disable it, you can do so from the Options page of either Outlook on the Web or the Outlook 2016 Preview, or can simply click the turn it off link at the bottom of notifications.
Clutter gives you a highly personalized email filter that knows which messages are of interest. If you want to learn more about using Office 365 in your business, give us a call.