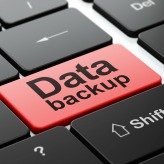 Data backup is one of the most important aspects of your company's infrastructure. Without data availability, your business will come to a standstill. So it's bizarre that most business owners fail to have a proper data backup strategy in place – and when disasters strike, it will be too late to act. You really do need to take a proactive approach to backing up your data and keeping your business functioning normally at all times. There are several methods and devices you can use for backing up data – here are some to consider.
There's no one-size-fits-all solution when it comes to data backups. You'll want to consider the pros and cons of each of the backup devices below before making a purchase.
USB stick
USB flash drives are basically miniature hard drives that you connect to your computer using a USB port. The drives are extremely cheap, with prices depending on their capacity. They're also portable, and can be used to backup information from several computers to the same drive.
Although USB sticks are highly convenient, they're still not a complete backup solution, and are best suited for intermediate backups, such as storing file recovery programs or critical business documents.
External hard drive
An external hard drive is perfect when used as backup storage media. It has the lowest cost per gigabyte when compared to the other backup devices out there. External hard drives use the same plug-and-play functionality as USB sticks, so you can plug the drive into your computer and immediately start selecting the files you want to backup. The transfer rate is also very fast, and you can backup a large amount of data within seconds.
One of the evident drawbacks of using an external hard drive is that you'll need to update your backups on a regular basis, or else new files won't be included. There's also the risk of the device being stolen or misused. For instance, a colleague may take your drive when you're away from your desk, or a disgruntled employee may copy all of your important business files and take it with them when quitting.
Network attached storage
Network attached storage, or NAS for short, is a dedicated device with its own IP address. It can be used as a multimedia server, and can function as an email or lightweight database server. NAS offers data redundancy, meaning it will generate a backup of your backups, so you can ensure your files are fully protected.
The main downside of NAS is its inability to scale beyond the limits of the system; you have to purchase additional hard drive bays when you need more capacity. You also have to take full responsibility for data security if you're implementing NAS.
Cloud storage
Cloud storage is becoming more and more popular among businesses of all sizes, due to its many benefits such as allowing users to access data anywhere on smartphone devices, as well as enabling you to work with the most current hardware and up-to-date software. It is also affordable, since you'll only have to pay for what you use. What's more, cloud computing is very convenient, because your service provider will take care of the installation, management, and maintenance processes.
On the downside, some cloud service providers don't employ sufficient security measures on their systems, so your data could be exposed to potential cybersecurity threats. This means that it is not always the ideal solution for companies dealing with very sensitive data – medical practices and law firms, for example. Predicting costs can also be hard; if your business is growing rapidly, then you might find you have not adequately planned for incremental costs.
Choosing the best system for backup is a critical decision that will impact your business on a daily basis. There are trade-offs among backup devices, which is why you need to choose the solution – or solutions – best suited to your business. Contact us today and our experts will assess your company's needs and provide the best backup solutions for you.