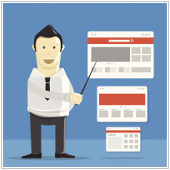 If you're like most internet users, you probably use Google Chrome, Firefox or Opera as your web browser of choice. But later this year, there will be a new player in the game. It's called Edge, and Microsoft's technologically advanced wonder child may just be the browser of choice for the next generation.
With Windows 10 launching later this year, Microsoft has a new browser packaged with it. Formerly known as Project Spartan, you can test out a beta version of this browser as part of the Windows Insider Program. But if you're not ready to jump on the bandwagon and try it just yet, here are three reasons why the world is getting excited about Edge.
1. Speedy browsing
A major reason Internet Explorer made surfing the web as slow as a tortoise was the support of legacy technologies such as ActiveX, Browser Helper Objects and others. Now, without the excess baggage, Edge is operating at a speed eons better than its predecessor. What may come as even more of a surprise is the fact that in recent tests it also outperformed both Chrome and Firefox in terms of speed.
2. Features, features, and more features
There are tons of cool features Edge offers that are sure to get anyone excited. From the Reading View function that allows you to view content without any ads, to the Annotation feature that enables you to write notes on a web page and share them with friends or colleagues, Microsoft appears to be set on pushing boundaries and wow-ing users with their focus on the future of internet browsing.
3. There will be extensions
If you love the extensions that Google and Firefox have on offer, you can let out a long sigh of relief. Microsoft Edge will have extension capabilities as well. And even better, you can "steal" extensions from Chrome and Firefox and use them on Edge too. Bear in mind, however, that extensions will not be available right away.
Is Edge the real deal?
While it may have felt like the creators of Internet Explorer were spending more time napping than updating their browser for the 21st century, this appears not to be the case with Edge. In a recent post on the Windows blog, the Microsoft Edge team wrote that "improving performance is a never ending theme" when referring to Windows 10. It seems Microsoft is now committed to staying current, which didn't really feel true with Internet Explorer.
Want to learn more about Microsoft Edge and other browsers? Curious to discover the best browser for your business? Let's talk. Call us today.