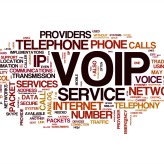 Voice over Internet Protocol (VoIP) is one of the latest innovations in the communications industry. It replaces your traditional landline phone with one that connects over the Internet, allowing you to make local and long-distance calls for a low cost. Many companies are jumping on the VoIP bandwagon, including Facebook. In an attempt to transform its mobile messaging service into a full-featured platform, Facebook has featured a VoIP video calling function in its Messenger app. Here's a recap on the social media giant's big step.
Facebook first introduced desktop video calling in partnership with Skype in 2011. But now, with the launch of video calling in Facebook Messenger, there's no doubt that Facebook and Skype have parted ways.
Today, Messenger has approximately 600 million users, and the new video chat feature will likely reel in even more people. Messenger already offers people the ability to make voice calls around the world, and video calling will expand its real-time communication features. This will enable people to reach out to others whenever and wherever, making Messenger's video calling function a powerful tool.
How it works
Video calling in Messenger will be available today for iOS and Android users in most parts of the world, with more regions to be added in the coming months. The new video chat feature is simple to use. You simply engage a conversation with a friend in Messenger, and tap the camera icon at the top of the screen to start video calling. The call uses your phone's front camera by default, but you can also switch to the back camera when you want to show off your surroundings to your correspondent.
Connectivity
Messenger will adjust the quality of your video call according to your Internet connection. Facebook will notify you if the connection weakens to a point where video won't work, and you can simply switch to audio VoIP. What's more, it's free! You will only be charged for data use by your mobile operator, which you can avoid by using a Wi-Fi connection. The one thing that sets Messenger's video calling apart from its competitors is the way it allows you to turn off your video feed to increase the other person's video quality. This way you can give your friends extra bandwidth if what matters is you seeing their surroundings, not them seeing yours. The Messenger team has made an enormous effort to try crunch the data needed for video calling to make it as small as possible. So despite an imperfect mobile connection, Messenger's voice and video quality will remain strong.
What next?
The current VoIP video calling feature of Messenger is in its early stages of development. Messenger only allows one on one video calls at the moment, but Facebook may develop and add group conference calling in the near future. The tech team is also working on a bunch of secondary features to expand Messenger's capabilities and to improve the user experience.
Overall, Messenger's new video calling feature is a great addition from Facebook. It allows for spontaneous conversations rather than scheduled occurrences. People can text messages to each other in Messenger, then switch to video call with one tap – it's that simple.
Effective communication is also important for businesses. If you're looking for VoIP solutions to simplify your company's communications, contact us today – our tech experts can help.