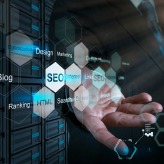 Social media has grown to a great extent in the last decade, revolutionizing the Internet through its ability to connect people and open new business opportunities. Many companies are now aware of the importance of establishing an online presence, and so have created business accounts on various social media platforms. As a business owner, you know that having a good online reputation is essential for business growth, whereas a bad online reputation could bring your business to its knees. Here are some reasons it's important to have a positive online reputation.
Trust and credibility
Trust and credibility are two important factors and could either make or break your business's online reputation. If you can over-deliver on your customers' expectations, there's a good chance they will spread the word about their experience – and that's great for your business. Take the time to earn your clients' trust, and you'll be rewarded with a strong brand image that will attract more potential clients for years to come.
Increased sales
Customers are more likely than ever to research brands, products, and services online before they make the decision to purchase. Make sure you have social media accounts ready, and ask your existing customers to follow you. Post regularly about your products, along with other valuable content related to the nature of your business to grab your customers' attention. Personal interaction with customers is a great strategy to boost sales, so don't let their comments go unanswered – see that you respond in a timely manner to every one of them to show that you value their business.
Online insights
Today, it's very common to see negative feedback on a business's social media pages. If things aren't addressed properly, a negative comment or review could be the start of your business's downfall, since they spread like wildfire online. By establishing an online presence you will gain a valuable insight into what your clients and competitors are saying about you and, if it's something bad, you can step in and rectify the issue before it goes viral.
Show your best side
Potential customers are online right now, researching your company before doing business with you. Some of them don't know you well enough to make immediate decisions, and so will judge your business on the basis of the information that is available to them. Whatever the products or services you provide for customers, once the feedback appears online, it sticks. This is a chance to present your company in a good light to attract more customers, which converts into increased revenue.
Always remember that it can only take a few seconds to destroy a brand's online reputation that took years to build. Contact us today for advice on how to build an online reputation for your business.