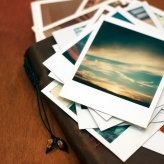 Between the enhanced capabilities of the iPhone's built-in camera, and more affordable pro-grade cameras, we are all taking more photos than we ever used to. No matter whether they're holiday snaps or just a photo of your lunch, we may no longer store them in leather-bound albums but they still need to go somewhere. Apple users waiting on a refresh for the Mac's iPhoto app can rejoice – an all-new Photos app is here, alongside the latest Yosemite operating system update. Here's all you need to know.
Clean design
The new program incorporates design and user experience features that have more in common with the iOS mobile operating system on the iPhone and iPad, as part of apparent wider efforts on Apple's part to bring the two closer together (Photos for iOS has been available since last September). This means Photos now looks like much like an iOS app – think a single screen with a primary focus on displaying images. Distracting widgets have been left by the wayside, though if you were a fan of iPhoto's easy-access sidebar, you can quickly re-enable that. Apple is also expected to discontinue Aperture, the editing app used primarily by photography experts, and Photos now acts as a middle ground between that and the more amateur-targeted app iPhoto.
At-a-glance view
The new Photos app allows you to review your photos and videos in seven views – Years, Collections, Moments, Photos, Shared, Albums and Projects. The Years view zooms you right out to see tiny thumbnails of all the photos you took that year; it's something of a mesmerizing mosaic collage of miniature dots of color. Similar in nature to the Events view you were used to in iPhoto, you can move around and click on individual images to bring up a larger preview. Alternatively, scroll through the images using your keyboard to view previews of every photo. Another tap on the preview brings up the full-size, high-resolution version; instant rendering means this happens in a flash.
The Moments view groups photos taken at one specific event, like your office party. This feature was also available in iPhoto but has been streamlined and smoothed out. Photos uses the time and place the photos were taken to group in the Moments view – a slight difference to the Collections view, which focuses on location, and so can amass shots taken on, say, a vacation, even if they span multiple days.
The Photos view shows you every image in your library, while Shared displays those shared or accessed on iCloud. Albums gives access to those created yourself or configured by the app. Finally, Projects is another enhanced iPhoto feature, enabling you to review photos you've used to produce slideshows and physical products. With the exception of wirebound books and small softcover books, which are no longer supported, you can use Photos to edit and reorder products you created in iPhoto.
Enhanced editing
Though Photos is not intended as a fully-fledged replacement for the Aperture app, the nonetheless relatively sophisticated editing capabilities of iPhoto are carried across to the new app. Between the ability to make changes to specific individual elements of a photo's technical make-up, and smart sliders that intelligently adjust multiple elements, you can execute quality photo touch-ups whether you're a beginner or a pro. Eight Instagram-style filters give added flexibility, too, including several vintage and black-and-white numbers – we particularly like Instant and Noir.
Pinch and zoom
Carrying on the iOS theme, Photos allows you to navigate and manipulate your photos just as though you were on your iPhone. You can pinch and zoom on your Mac's touchpad to zoom in and out of different photos, and with a few taps you can easily switch between screens. There is even support for keystroke gestures to allow you to effortlessly browse your entire photo collection. This gives the whole experience much more glide than we had become used to with the increased sluggishness of the past-its-prime iPhoto.
Cloud power
Of course, shifting everything to the cloud is the general direction these days – and it makes particular sense with space-greedy photos and videos. Your entire library of shots is automatically added to iCloud Photo Library and so available across all your Apple devices, which now employ the same familiar and easy-to-use navigation. Edits are instantly synced between devices and, in an effort to save space, full-resolution photos and videos are stored on iCloud rather than locally.
The new Photos app sees Apple keeping pace with our ever increasing demands for speed and flexibility as amateur and professional photographers alike. To find out more about putting Photos and other Mac apps to use in your business, give us a call.