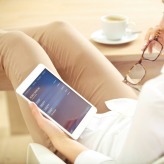 According to Apple, its iPad sales are on the decline, down to 12.6 million units from 16.4 million a year earlier. The tech giant has responded by unveiling a new advertising campaign that's built around the tagline "everything changes with iPad". The new ad highlights the many ways that each of us can use the tablet to assist in our daily life activities. Here's what you need to know about Apple's latest marketing campaign.
Why iPad sales are declining
The iPad's initial sales growth has been in steady decline over the past few years, and there are many reasons behind it. For one thing, tablets aren't like smartphones. More consumers are opting to buy bigger-screened iPhones, such as the iPhone 6 Plus. In addition, consumers usually hold on to a smartphone for a certain period of time, and then upgrade to a new model that promises better performance and new features. Tablets, on the other hand, have a much longer replacement cycle, with fewer advances in each new model release. They are usually passed between family members, reducing the need for new purchases.
"Everything changes with iPad"
Determined to turn things around with this new slogan, Apple has presented the new ad in a 90-second video displayed on its official website. The film shows adults and children using the iPad to assist with a variety of tasks – from cooking to picking up new hobbies, traveling, redecorating, learning, and communicating with loved ones.
Apple went a step further to promote its ad campaign by creating a dedicated marketing micro-site, and pooling in popular iPad apps like Green Kitchen, MailChimp, Google Maps, and Pinterest. These pitch pages provided solid reasons for us to consider buying an iPad – the argument being that it can change the way we do things every day. To cap it all, they have included a "Why iPad?" section, outlining the key features of an iPad and providing more justification for consumers to purchase one.
A deeper look into the iPad micro-site
Let's take a closer look at Apple's dedicated micro-site. It highlights the capabilities of an iPad to make the user's life easier in many ways.
Cooking – If you need inspiration for out-of-the-box recipes, the iPad's Green Kitchen provides you with creative ideas from some of the best chefs. Cooking is made easier with iPad apps that are able to show you a detailed recipe of your choosing, or instructions to make the most of the ingredients you have at hand.
Learning – Children can benefit and learn from interactive games that engage them through sight, sound and touch. Whether it's visual puzzles, basic programming, stargazing, or academic lessons – the iPad has them all.
Small business – The iPad offers an array of productivity apps, allowing you to do business anywhere, anytime. From managing business appointments to tracking projects and making online payments, the iPad has opened new possibilities for business owners.
Traveling – The iPad could be a traveler's new best friend, with its ability to book hotels and flights, display routes without the need for an Internet connection, and provide entertainment with its music and movie apps.
Redecorating – House decoration has never been easier. With the iPad, you can create an accurate floor plan without a tape measure. You can find fresh ideas from Pinterest to lighten up your rooms. DIY projects are also a breeze with the iPad's step-by-step guides.
Apple is expecting an increase in revenue following the launch of this new iPad commercial. If you want to learn how to best implement the iPad into your office, give us a call today and we can help.