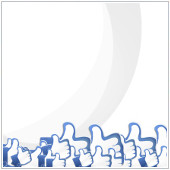 Do you have the Facebook marketing blues? Are you struggling to find any practical tactics that will boost your traffic? Facebook can be a tough market for small business owners to break into. It's getting more and more crowded by the day; however, there are a few tested strategies you can employ to gain a foothold on the mother of all social media networks. But first, you need to ask yourself a very simple question.
Do you really have a Facebook audience?
It's time to face the cold hard facts. Does your business actually have a Facebook audience? In today's over-saturated social media market, a customer base on Facebook is not a given.
Think about it. Why do people go on Facebook? It's usually to interact with friends and family, or for other social purposes. If your business is a software company that targets a B2B audience of technical engineers, your company will likely not benefit from a Facebook presence. On the other hand, if you sell posters of Justin Bieber or cute and cuddly teddy bears, then a customer base likely eagerly awaits.
Learn which content performs best in your niche
Want to know how to discover the content that has been performing best in your niche over the past year? Of course you do! And there's actually an easy way to do it with a tool called BuzzSumo. Here you can type in a keyword and see what articles and content are getting the most shares on Facebook, as well as other social networks. Once you have this information, you can then start posting content covering similar topics. This will help your business stand out and gain traffic.
Write short, eye-catching headlines
Headlines are just as important on Facebook as they are on other platforms and media outlets. For your best shot at one of your posts going viral, keep your headlines to between 5 and 15 words.
As for headline content, remember it's not about selling you and your business but about the value you provide for your customer. Remove the words "I" and "we", and replace them with "you" as much as possible.
Use Visuals
It's easy to forget about this obvious truth, but posts with visuals almost always outperform non-visual content. A picture not only speaks a thousand words; it also has the potential to get you a thousand shares.
If you're getting lots of traffic on Facebook, pay for ads
Ads on Facebook work in essentially the same way as Google AdWords. So if you see that a keyword is performing well for you on the platform, it's worth investing some money to test the ad service out. Because Facebook ads are much less targeted, they don't typically convert into sales as well as their Google counterparts. However, they are certainly a lot less expensive – chiming in at as little as $1 a day. With a small investment, you're likely to gain some visitors to and conversions on your business website.
Want to learn more about Facebook marketing or other ways to use technology to grow your business? Send us a message today.