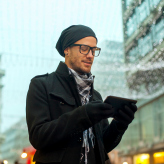 While folks on iOS limit themselves to friendship with Siri and Windows Phone users make do with Cortana, greater support on Android for the Google Now digital assistant means it's becoming possible for you to achieve even more on your Android tablet with reduced effort. Though Google Now has for some time been supported on Android, the recent addition of cards from a further 70 third-party apps – giving a total of over 100 – means the experience just became even richer. Here's what you need to know.
Google Now works by interacting with other apps on your tablet, as well as information from your Google account, browser history and elsewhere, to deliver information and reminders at the very moment you need them. It displays information from each app as a card, and acts intelligently to learn your habits and determine which information is useful to you and at which time and location you're likely to want to see it.
The ability to talk to Google Now and use it to access information from its Google app siblings has been around for a while. Examples include telling it to load all your Google+ photos from a specific location, or the particularly helpful way you can set reminders not only by time but also location – meaning you can nudge yourself with a pop-up to buy bread the next time your tablet detects you're at your local store. But with the latest release, it's the third-party enhancements – bringing in features from other, non-Google apps that live on your tablet – that are really the talking point.
Exciting additions to the suite of apps supported by Google Now include the likes of Spotify, TuneIn and Youtube, making it easy for you to quickly pull up a playlist based on the music you've recently been listening to. A breaking news feed is supported by a number of apps, while Google Now can sync with apps like Eat24 and FoodPanda to remind you that your food is due to arrive soon. With the Zipcar app you'll get not only a reminder that your rental slot is coming to an end, but also help in navigating to the drop-off point – alternatively, receive an automated notification when you arrive at an airport where app-based taxi booking services like Easy Taxi and GrabTaxi are available. You can even get help sticking to your goals in various fitness and sleep monitoring apps.
Third-party apps aside, Google Now continues to use the power of search to bring up helpful prompts like nearby attractions, events and public transit options; another recent addition even alerts you when a sale promotion begins on a product you've searched for. While this functionality was previously limited to flight bookings, it's now extended to support all kind of products. If you search for an item a number of times, Google assumes you're thinking of making a purchase, and will let you know if the price drops so you can swoop in and secure the deal.
Getting the most out of Google Now support for third-party apps necessitates having the latest versions of both the Google app and the apps you want cards to appear from. To learn more about implementing Android or Google technologies in your business, give us a call.