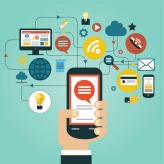 The Windows Phone suite is one of the biggest names in the smartphone industry, with millions of users around the world. Since its debut in 2010, Microsoft has tried to close the gap to keep pace with the competition, however they have received feedback from users about functionality issues. Nevertheless, Microsoft is addressing most of them and the Windows Phone stills packs a bundle of interesting features that enhance the user experience. Some of these features may well be worth looking into if you're a Windows Phone user, or are thinking of becoming one.
Projecting screen to other devices
You can show off your videos and photos on a much larger screen by activating the Project My Screen function located in the Settings>System menu. Your phone will automatically start searching for any nearby devices that support wireless screen projection. In addition, you can install Project My Screen on your PC and connect it to your phone using a USB cable for a portable projector.
Find My Phone
Afraid of losing and being unable to find your phone? Don't worry – Windows Phone has a Find My Phone application that allows you to ring, lock, locate and wipe clean your phone from the official Windows Phone website. Check first in case you've lost your phone at home, as Find My Phone will make it ring even if the volume is off or set to vibrate mode.
Word Flow
Word Flow is a built-in application on devices with Windows Phone 8.1 installed, allowing for fast and accurate typing. Instead of typing each letter individually, you can slide your finger across the letters on the screen, and Word Flow's intelligent system will automatically input the exact word that comprises the letters your finger came across. It will even display an emoticon relevant to the word you typed.
Data Sense
If you're using a monthly plan for your Windows Phone, sometimes it can be difficult to keep up with your current data usage. Data Sense displays your mobile's data usage, and allows you to set very specific data limits. If you want to save some bandwidth, you can also restrict background applications from using data and command your phone to compress images while browsing the Internet.
Storage Sense
The way Storage Sense works is very similar to Data Sense. Storage Sense gives you an overview of the applications installed on your Windows device. You can see a quick breakdown of the apps that are taking up the most space and delete any bloated apps, videos, or audio files that you no longer need. It's a very handy tool for giving your phone a spring clean!
Volume Control
The Windows Phone has two different volume channels: volume levels for ringer and notifications, and media and app volume. You can take control of these two individual volume levels. In other words, you can listen to music or play games at a higher or lower volume than your ringer and notifications, and vice versa. To access this feature, tap the small arrow on the top right screen when you adjust your phone's volume, and a new settings window will open for you to customize volume levels.
You're not yet using your Windows Phone to its greatest potential if you're missing out on these features. Want to learn how to implement the Windows Phone into your business? Contact us today and we can help.