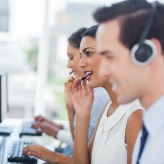 However good you are at running your business, you'll not get very far without a steady stream of customers. So you need to look after them. One of the factors that differentiates good companies from great ones is customer relationship management, commonly known as CRM. Over the past few years, thanks to the huge growth in online reviews and social media, customers' expectations have changed, meaning people now have more power and businesses need to adapt accordingly to respond to customer demand.
Imagine a product that you purchased a couple of days ago breaks after its first use. You contact customer support and describe the issue, only to be told to wait for another representative to call you back. You wait for hours, and still nobody calls back. After sending an email to customer support, there's a chance you get a call back, but it's from someone unfamiliar with your problem and you awkwardly have to explain yourself for the third or fourth time. An effective customer relationship management system can eliminate this problem and many more. Here's what you need to know.
CRM defined
Customer relationship management is a system that allows businesses to manage, record, and evaluate their customer interactions, in order to provide better services and boost sales. You can use CRM to store customers' contact details, accounts, leads and sales opportunities all in one place, usually in the cloud so that the information is accessible by anyone in your organization, and at any time.
Why you should invest in CRM
Master data management – This is a method of recording and sharing customer data across the CRM process. When customer data is recorded, the CRM system centralizes the data into one file, called a master file. Everyone within the company then has access to this data source, preventing confusion from inaccurate or duplicated data.
Collaboration – Nowadays clients want their support from a company's customer service team to be as fast as possible. But one of the problems in the customer service arena is a lack of consistency. CRM systems are able to ensure customer information is shared among departments to better understand circumstances and requirements, and provide a more consistent service.
Customer segmentation – A CRM system arranges your customers into groups based on criteria such as age, gender, location, and even their likes and dislikes. This allows you to target marketing messages to your customers more accurately, potentially increasing your sales numbers.
Task tracking – CRM systems have task tracking features that enable your employees to stay on top of important tasks, such as contacting customers via email or phone, and following up on leads. CRM systems also send reminders to employees about their assigned tasks, so that nothing falls through the cracks.
In-depth reporting – Another benefit you can derive from implementing a CRM system is a thorough analysis of your customer base. CRM-generated reports give details including an overview of product sales numbers, the marketing strategies that work best, your most successful products or services to date, and even a prediction of whether your sales target will be met at the end of the month.
If you're looking to improve customer service and increase sales conversion with CRM, contact us today and see how we can help.