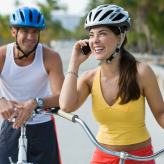 Have you been waiting for WhatsApp to introduce voice calling? If so, the wait is over and free calls on the Voice over Internet Protocol (VoIP) platform are finally here – at least they are if you happen to be an Android user. The instant messaging giant has finally released an update for the Android version of its app that enables free internet-based calls between WhatsApp users. Here are the essentials on the release, how to get it and a trap to beware of.
WhatsApp's plan for the introduction of voice calling was first announced by its CEO Jan Koum in February 2014, and was due to have been available by last October. However, technical problems delayed the release until the first quarter of this year. When the voice calling feature did arrive, it was subject to a slow and somewhat complex invite-only rollout program whereby, unless you were personally selected by WhatsApp to try it first, you could only access voice calling if you had a friend with existing access who then called you with it. After taking their call, the feature was unlocked on your app and you could use it to call others too. The latest move to make the feature available to all users means no invite is now required.
To take advantage of the voice calling option, make sure you have downloaded at least version 2.12.5 of the free app from the Google Play store. Within the app's Calls tab, tap the phone icon in the top right-hand corner. Select from the list of available contacts – which only includes those also setup with WhatsApp voice calling, and therefore for now only those on Android – and you're off! iOS users need to wait a little longer, though WhatsApp founder Brian Acton has promised the feature is on the way in the near future (the voice calling button has been spotted in the latest release of WhatsApp for iPhone, but has yet to be activated). Yet an unofficial Cydia tweak known as WhatsApp Call Enabler makes this possible now, if not exactly recommended, on jailbroken iPhones.
Those eagerly anticipating the arrival of WhatsApp's voice calling feature should be on their guard against attempts to prey on that enthusiasm. A number of phony messages are currently circulating on WhatsApp, by email and on the web, inviting users to click a link to activate voice calling within the app. Since no additional download is required to access voice calling – and indeed activating the capability this way is not possible – clicking the link will not achieve the desired outcome, and will instead leave you vulnerable to unintentionally installing malicious software and spreading the malware further.
Since its launch in 2009, WhatsApp has become a hugely popular instant messaging app worldwide. The platform now boasts 700 million active monthly users, and claims to handle 30 billion messages each and every day. Prior to the introduction of voice calling, the app's use was limited to sending and receiving text messages, images and short sound recordings – meaning that a conversation of sorts was still technically possible by sending recordings back and forth, albeit in a more long-winded manner. But the implementation of live voice calling puts it on a par with the likes of Skype, and makes it more likely that VoIP will become mobile users' preferred means of placing a call.
That is something which other apps have arguably failed to do on a large scale – despite Skype and others having long been mobile compatible – since the majority of mobile users still opt to make regular calls unless doing so is prohibitively expensive, for example to overseas. Provided it can get the user experience right and make the process of placing a call so intuitive that it becomes as natural feeling as it currently does to phone someone the old-fashioned way, WhatsApp could be about to tip that balance and make VoIP huge.
Want to learn how to implement VoIP in your business – whether on your office or cell phones – to cut costs and increase mobility and productivity? Give us a call and see how we can help.