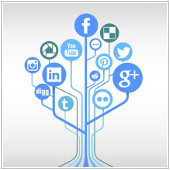 When it comes to social media, there are unspoken rules that must be followed in the business world. If you break them, it could damage your reputation and turn off customers. On the flip side, there are also strategies that can help you grow your network and build brand awareness. That's why we've compiled a quick rundown of how to use Facebook, LinkedIn and Twitter to optimize your business's social media efforts and help you network like a pro.
Facebook
Many people think of Facebook as a useful platform to keep in touch with family, friends and colleagues. However, in a business sense, it can be used to exchange ideas and opinions, promote your brand, and interact with customers.
A proven strategy to grow a more engaged network here is to share informative, valuable articles that will benefit your followers. Additionally, posting photos that emphasize your unique selling proposition and mission is a strategic way to personalize your brand.
There are, however, a few no-nos when it comes to Facebook. With Facebook being predominantly a place to connect with family and friends, it's easy to fall into the trap of posting whatever comes to mind. So when you're wondering whether or not you should post a particular comment or image, ask yourself, "Would I be okay publishing this on the front page of a newspaper?" If the answer is no, it's best to hold off on hitting the post button. Finally, if you're using the platform in a business sense, avoid sharing pictures of your dinner, newborn baby or anything too personal. Your customers are likely to be confused or turned off.
LinkedIn
The social network that is most obviously suited for professional purposes is LinkedIn, and it's an exceptional platform to grow your business. To do that, it's important to keep your company information up to date and remain active on the platform. A couple of ways to generate activity are to share or comment on articles, join professional groups and update your network with current company milestones, events you're attending and other news about your organization.
When it comes to growing your network on LinkedIn, there's a big debate as to whether or not to connect with every Tom, Joe, Dick and Sally who sends you an invite. There are advantages and disadvantages to both, but as far as brand awareness is concerned it makes sense to connect with more people. However, it's a good idea to take a moment and do a quick profile check on the potential connection. Not everyone retains a professional profile and image on LinkedIn, and connecting with the wrong people could potentially hurt your reputation.
Twitter
Want to connect with people from around the world, stay on top of trends and share your ideas with professionals you respect? Twitter is the platform to do just that. Like the other two platforms mentioned above, you can also share articles and advice, and ask questions.
An element that makes Twitter especially unique is the hashtag, and you can use it to take your networking to another level. For example, if you're attending an industry event or other networking opportunity, you can search Twitter for the associated event hashtag. This will help you discover who will be in attendance – like colleagues and professionals you'd like to meet – which gives you a great opportunity to maintain and grow your network.
Interested in finding out how else you can use social media to boost your business? Send us a message to find out more.