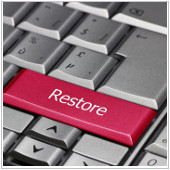 Have you ever deleted an email only to discover months later that you still need it? If so, you're in luck. Office 365 has now made emails recoverable indefinitely- whether it's been deleted for a few days or a few years. Here's the scoop on Microsoft's new policy that makes this possible.
If you're a regular user of Outlook 365, you're likely aware that you can only recover an email that was deleted 30 days ago or less. After that, it's gone for good. For those that have been agitated by this policy, Office 365 has now made a change that allows emails in the Deleted Items folder to be accessed indefinitely. However, take note that if an end user makes the effort to empty the Deleted Folder, those items will still in fact be unrecoverable.
But what if you don't want to indefinitely recover email?
Believe it or not, indefinite access to emails may come as bad news for some. It can create industry compliance issues for organizations and can also affect offline storage as deleted emails pile up.
Not to fear. Along with this new policy, Office 365 also allows you to customize the retention duration to a time span that works for you. To do this, click on the following:
Office 365 Admin
Exchange Admin Center
Compliance Management
Retention Policies
From here you can modify the retention duration of your emails to a time span of your choice.
Want to learn more about this and other cutting-edge Office 365 features? Give us a call today and get all the info you need.