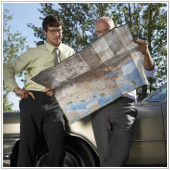 We all know that showing up among the top Google search results is a great way to attract new business. But wouldn't it be great if it was easier to achieve this? Now Google is taking the initiative to help small businesses get found online. It's called Let's Put Our Cities on the Map, and it's going to help get your business discovered.
Here's why showing up in search results matters
Google announced Let's Put Our Cities on the Map on March 25. Along with it, they also shared the following statistics that demonstrate just how important search results are for your business:
Four out of five people use search engines to find local information
Businesses that are online grow 40% faster than those that aren't
Consumers are 38% more likely to visit and 29% more likely to consider purchasing from businesses with complete listings
Let's Put Our Cities on the Map puts your business on the map
Essentially, Let's Put Our Cities on the Map creates a custom website for your town. And not just a few towns, but nearly every one in the US – 30,000 in all. The site teaches you how to enhance the company information that shows up on Google, and also offers instructions on how to make a Google My Business listing. Once implemented, both of these will make it easier for your business to appear in search results.
But that's not all. There are number of other features Let's Put Our Cities on the Map offers, including:
Access to new diagnostic tools that show how your business is appearing in both Google search results and maps
The ability to verify your business for Google searches
Tools to add photos, location and operating hours to your business listing
A year's free access to a domain name and website through their partner Startlogic
Additionally, the site will point visitors to Google hosted, in-person training workshops with local organizations such as your Chamber of Commerce and Small Business Development Centers.
To learn more about Let's Put Our Cities on the Map and the latest web developments, contact us today.