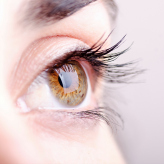 Remember when sending a text meant punching hard on physical buttons on your old Nokia model? That was before the days of touchscreen smartphones, to whose smooth, gliding responsiveness to our fingers we have since become accustomed. But the technology revolution doesn't stop there. Samsung has recently patented technology that will see touch screens give way to visual control screens, where a simple flicker of the eyes will determine what your phone does.
Some devices, both from Samsung and other manufacturers, already have security features which enable you to scan your face as a way to unlock your phone. This is the kind of eye control function that we might expect from future Samsung devices employing the technology that is the subject of the company's latest patent. The patent doesn't limit the application of this technology to phones, either, meaning that we could well see it deployed on devices like tablets, desktop computers and even televisions.
Imagine being able to play a song in your phone's music streaming application, simply by blinking. Blink a second time and you could pull up various information about the song and artist – other movements allow you to activate further features in the app, whether that's increasing the volume, pausing, rewinding or downloading other songs by the same artist. The patent lists eye movements including blinking, keeping them closed, and gazing at one spot for a prolonged period, each of which would be linked to specific in-device actions.
The race to implement technology to enable visual control of cell phones is not a new one – back in 2013, LG accused Samsung of having infringed on one of its eye-tracking patents with features available on the Samsung Galaxy 4S. Prior to the launch of the 4S, LG alleged that the phone's Smart Pause function, which automatically pauses video when you take your eyes off the screen, violated a patent the company had applied for in 2009, and which covered the same technology on its Optimus G Pro device. However, when the 4S was eventually released, the Smart Pause and Smart Scroll features – the latter of which allows for browser and email scrolling without touching the screen – relied on facial recognition rather than eye tracking.
Similar features are available on Apple devices, and intended primarily for those with motor difficulties. Switch Control allows you to connect a switch to your iOS device for easier access, while since iOS 7.1 it has also been possible to use the device's camera as a head switch, and then customize the settings to define head movements and which actions they trigger. Nonetheless, the ongoing innovations being attempted by firms like Samsung mean that this kind of device control is likely to become even more common and mainstream in the near future.
To find out how we can help you use the latest mobile technology in your business to drive productivity and greater revenue, contact us today.