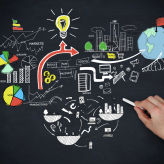 Business intelligence tools should be on the radar of every entrepreneur. Without them, how can you know where your organization is doing well, where it needs to improve or how it is going to grow? Microsoft recognizes the growing significance of the business intelligence market and has just acquired Datazen, a three-year-old business intelligence and data visualization platform. The move follows Microsoft's release earlier this year of the free Power BI product. So, whether you're a current Datazen user, or are looking for a new business intelligence solution for your company, here's what you need to know.
Datazen stands out from the business intelligence crowd in that the tool is built with mobile users in mind. The goal with the conception of Datazen, which was previously known as ComponentArt, was to create a user-friendly business intelligence product that balanced power, simplicity and a pleasant experience for the end user. The software is compatible with iOS, Android and Windows devices, and last year the firm released an update allowing offline use across all platforms.
The move means that Datazen now provides mobility to its users, allowing them to continue working with their business intelligence data wherever they are based and no matter whether they have an internet connection. Connected to the launch of offline capabilities, the same release also improved the synchronization process between the Datazen app and live data sources. This allows users to work with up to 100,000 records locally on any device, and enjoy immediate data retrieval.
In addition to Microsoft's wider push on business intelligence tools, the company is focused on specifically doing so with the cloud and mobile in mind. This forms part of the corporation-wide priority for innovation in mobile-first, cloud-first IT solutions, identified by CEO Satya Nadella last year. Microsoft says that Datazen's offering will complement that of Power BI and that, over time, the IT giant aims to integrate the two in order to bridge the gap between on-site and cloud-based business intelligence tools. Datazen is already optimized for Microsoft's SQL Server Analysis Services.
According to Datazen, its current users can continue to access and use all of its products in their current form. Microsoft has also announced that SQL Server Enterprise Edition customers with at least version 2008 can now access Datazen software at no additional cost. The company claims the move will bring Datazen's mobile data visualization and interaction possibilities to millions of business users globally.
Learn more about how to implement business intelligence to grow your company – call us today.