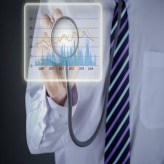 Healthcare organizations have an extremely dynamic work environment – doctors, nurses, staff and patients are constantly on the move. In spite of all the stress and pressure, the organization must do its best to lower costs while trying to improve patient satisfaction and safety. This is why healthcare administrators are increasingly relying on wireless technology to facilitate their patients and operate more efficiently. Here are some examples of how wireless technology is providing new solutions to healthcare businesses.
Managing staff workflow
Working in a hospital can be an exhausting experience, in a stressful environment and under time pressure. This can affect staff performance in delivering service to patients. You can track staff movements, to gain a better understanding of workflow, by deploying ID badges with a radio frequency identification (RFID) tag that can be linked up to the hospital's Internet connection. The badges will then collect data and it can be analyzed for possible improvements to processes.
Better inventory of medical equipment
Sometimes it's hard to keep track of medical equipment and devices in storage. Wireless RFID technology allows users to track not only the location of the equipment, but also its condition and status. This way it's easy to tell at a glance whether the equipment is in use or not. RFID also prevents staff from spending hours searching for missing tools, so doctors and nurses can focus on caring for patients. Simply put, you'll always find the equipment you need, in the right place and at the right time.
Increasing security
Wireless technology can be used in different ways to boost security. For instance, attaching an electronic tag to an infant can help prevent child abduction from hospitals. Another way to implement this is to let staff wear ID badges embedded with a RFID tag. Whenever a member of staff enters a patient's room, his or her name, photo, and job function will display on the patient's bedside monitor. This allows the patient to quickly identify the members of the team responsible for their care. The patient's family will also be able to find out who has visited the patient and when.
Accessing and analyzing data
Healthcare organizations are increasingly turning to cloud-based data storage. And when wireless signal devices are installed around the hospital, the data will be available to all staff in the area. Many healthcare organizations are also adopting analytical software to perform data mining – a process in which data is analyzed to provide new information and deeper insight into operations.
Automating environmental monitoring
There are many cases in hospitals where the environment needs to be monitored closely. For instance, hospitals usually have a number of refrigerators spread across the site that are used to store vaccines, medicines, or even tissue samples, and which must be kept at a carefully controlled temperature. Equally, hospitals often have to maintain appropriate humidity levels within certain rooms. This is where wireless technology can help. By attaching sensors to wireless RFID tags that can send the room's temperature and humidity information over a Wi-Fi connection, staff can record data at regular intervals and be alerted if the conditions exceed an acceptable range.
Wireless technology not only improves efficiency, but it also saves time and money. Talk to us today about incorporating wireless equipment into your healthcare facility.